Things to Know Before You Ride in a Helicopter
If you're looking for an unforgettable adventure in Alaska, a helicopter tour is the way to go. With the stunning natural beauty of the state, there's no better way to see it all than from above. However, if it's your first time taking a ride in a helicopter, it's natural to have some questions and concerns. In this blog, we'll cover everything you need to know before your first ride in a helicopter with Heli Alaska Tours. From what to expect on your flight to what to wear, we've got you covered. So, let's get started and make sure you have the experience of a lifetime!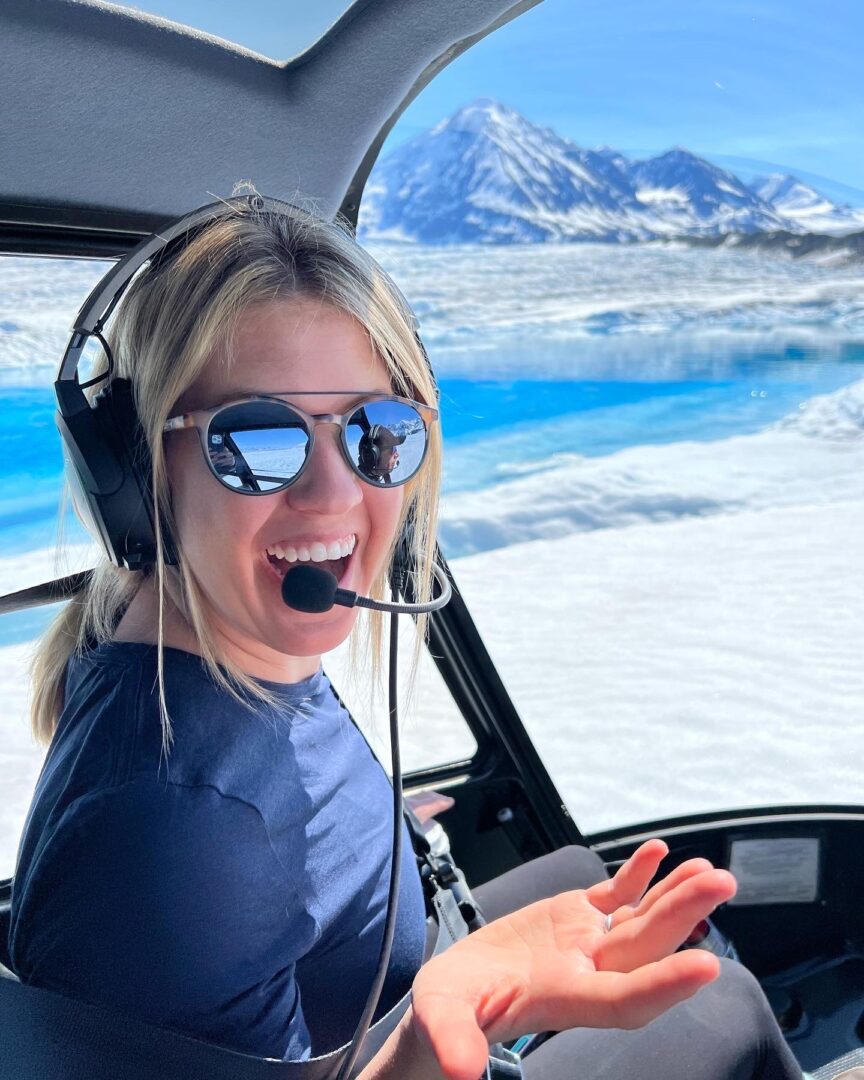 What to Expect when you Ride in a helicopter
Riding in a helicopter is unlike any other form of transportation. Here are a few things to expect during your Heli Alaska tour.
PRE-FLIGHT PREPARATION – Before your flight, your pilot from Heli Alaska's team will provide a safety briefing and go over the flight plan. Don't be afraid to ask any questions you may have.
SMOOTH RIDE – You might think that a helicopter ride would be a bumpy experience, but in reality, it's incredibly smooth. Thanks to the helicopter's advanced technology, you'll hardly feel any turbulence during the flight.
HEADSETS PROVIDED -During the flight, your pilot from Heli Alaska will provide you with a headset that allows you to communicate with them and other passengers. It also lets you listen to any narration provided by the pilot or the tour guide.
DRESS FOR THE OCCASION – The interior of the helicopter is climate-controlled, but it's still a good idea to dress appropriately for the tour. We recommend wearing comfortable, layered clothing and comfortable shoes, etc.
At Heli Alaska, safety is our number one priority. We understand that many people may feel apprehensive about their first ride in a helicopter, but our experienced pilots and state-of-the-art aircraft are designed to provide a safe and comfortable experience.
Before every flight, our pilots conduct a comprehensive safety check of our helicopter to ensure everything is in top working order. We also use advanced weather tracking technology to monitor conditions and make any necessary adjustments to flight plans.
We train and license all our pilots to the highest industry standards. Our pilots have flown thousands of hours in various terrains and weather conditions, making them well-equipped to handle any situation that may arise. We also provide regular safety training to our pilots to ensure they are up-to-date on the latest safety procedures.
In addition to the safety measures we take for our aircraft and pilots, we also prioritize passenger safety. Before takeoff, we give safety briefings to all passengers to guarantee they are ready for any scenario. We also provide safety gear, including life jackets, to all passengers on tours that include a water landing.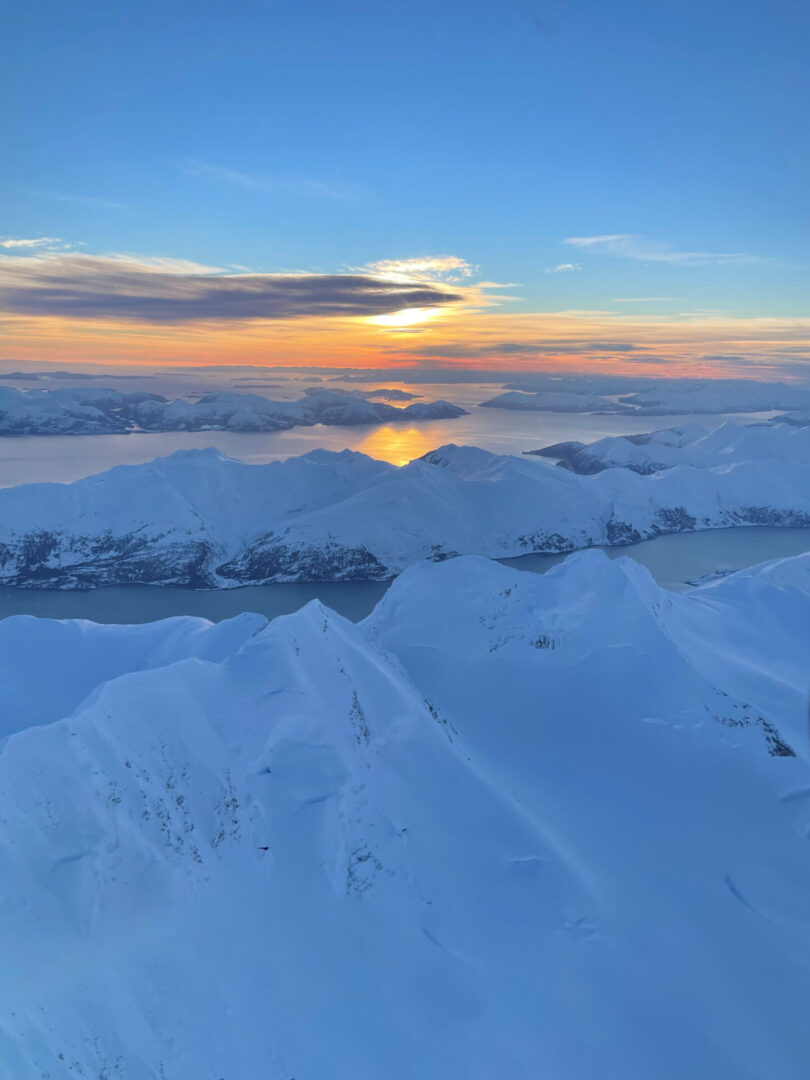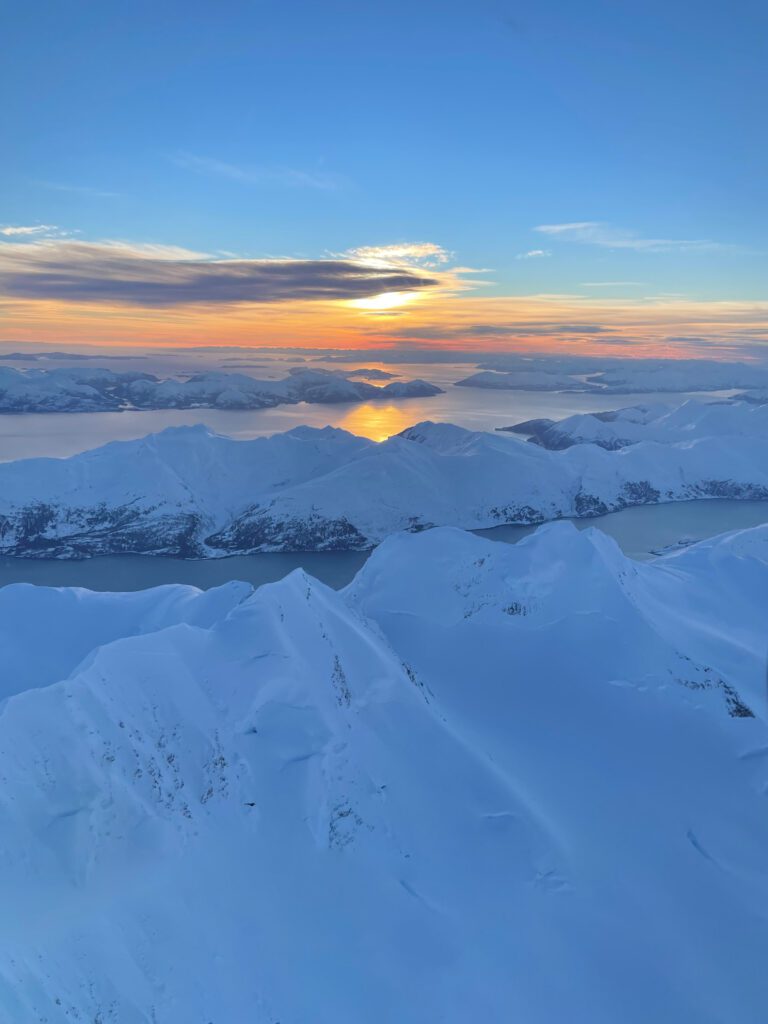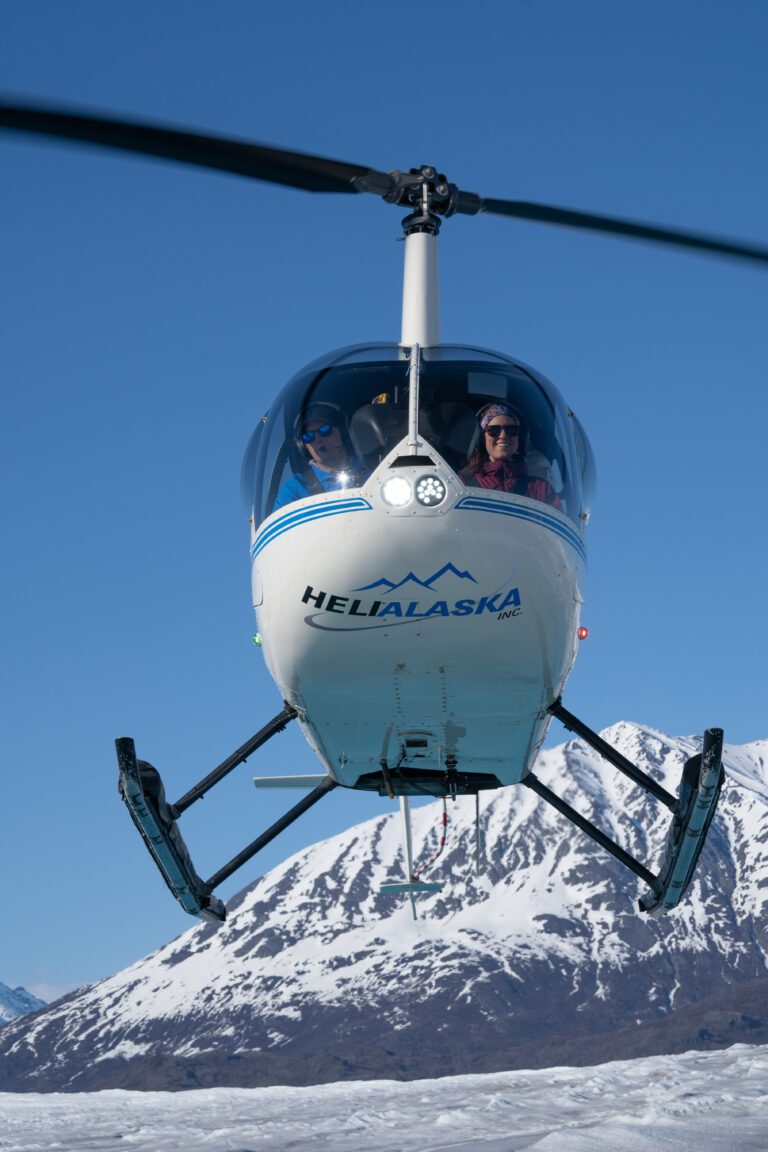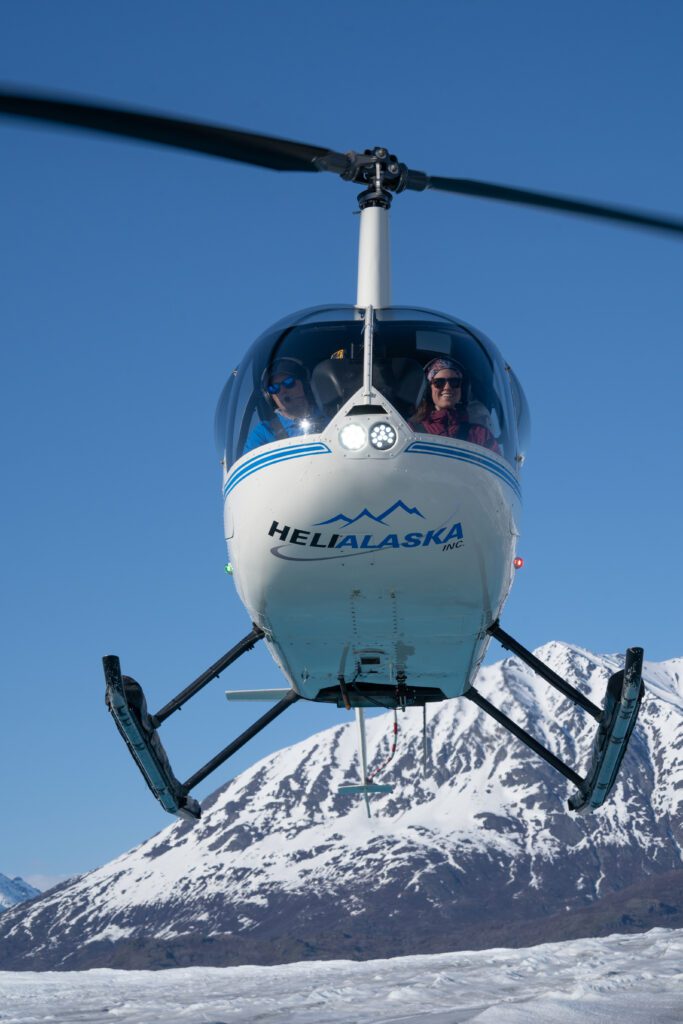 Our Helicopter, the R44, is a great choice for experiencing Alaska's breathtaking views during flightseeing tours or charter work. Manufactured by Robinson Helicopters, the R44 is lightweight and powerful with a fuel-injected Lycoming IO-540 engine delivering 245 hp for takeoff.
With a max weight of 2500 lbs and an empty weight of 1505 lbs, the R44 is efficient and fast, reaching 109 kts and 300 nm. It has a hover ceiling IGE of 8950 ft and 7500 ft at lighter weight, along with a climb rate of over 1000 fpm and a 14,000 ft max operating altitude.
The R44's balanced airframe and advanced technology make it safe for any flight-seeing tour or charter. It has a 3-passenger capacity, allowing for a comfortable and scenic experience. We perform regular maintenance on our R44s to ensure that they are in top condition.
Trust Heli Alaska's pilots and our helicopter for an unforgettable Alaskan experience. Book your Hatcher Pass Tour, Knik Glacier Tour, or Prince William Sound Tour with Heli Alaska today.
Tips for a Great Ride in a helicopter
Heli Alaska provides excellent helicopter tours, with our Hatcher Pass Tour, Knik Glacier Tour, and Prince William Sound Tour being the most popular. Here are some tips for making the most out of your flightseeing tour.
Moreover, it's essential to keep your expectations realistic. Weather conditions or other factors beyond the pilot's control can affect your flight, and the ride may not be as smooth as a commercial airline flight. Listen to your pilot and trust their decision-making.
Furthermore, listen to the pilot's pre-flight instructions and advice, and follow any instructions given during the flight. Highly experienced professionals with extensive knowledge of flying helicopters are here to help. Don't hesitate to ask questions or speak up if you need anything during the flight.
In conclusion, enjoy the experience! A ride in a helicopter is a once-in-a-lifetime opportunity for many people. Take in the breathtaking scenery and trust the pilot to ensure that you have the best possible experience. Keep these tips in mind to make your flight the experience of a lifetime. If you have any questions or want to book a tour, don't hesitate to contact us.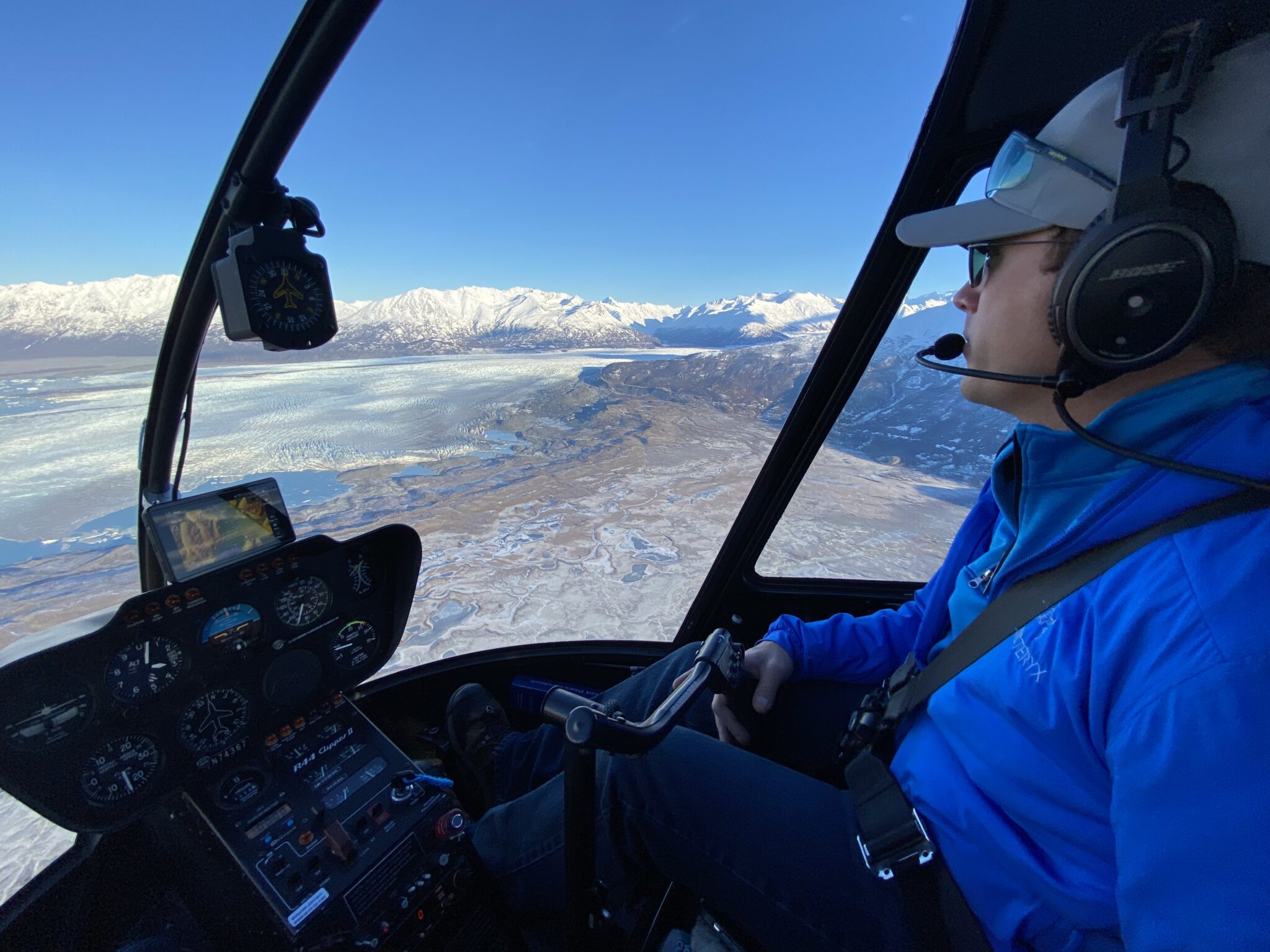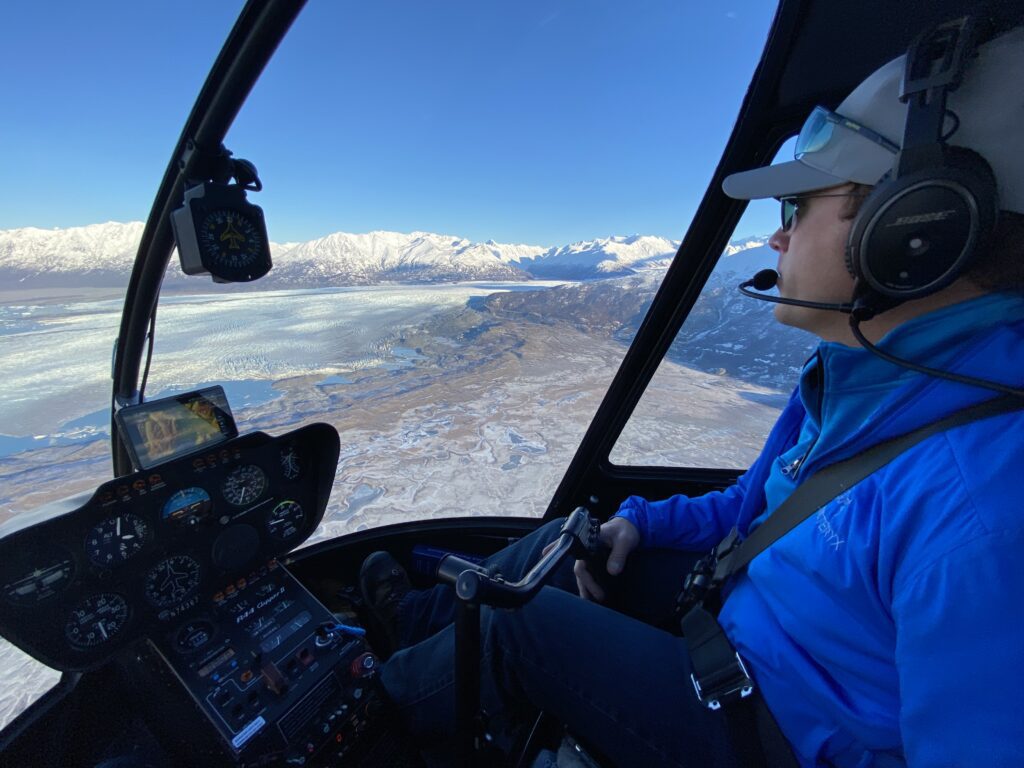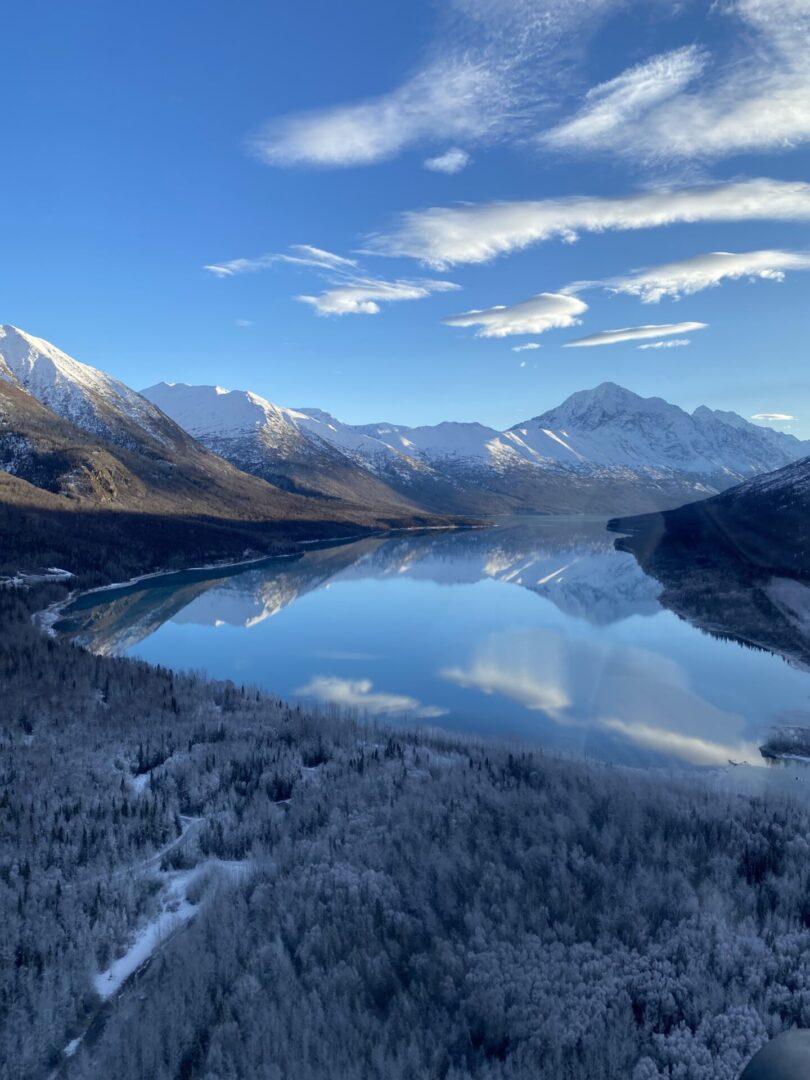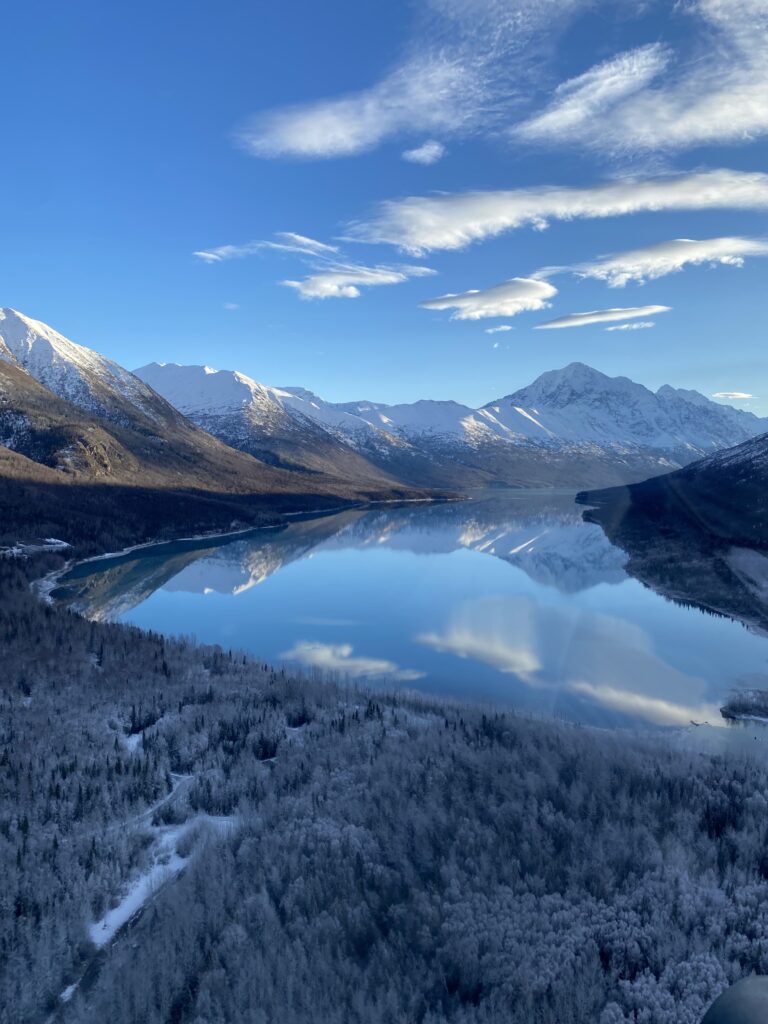 Summary for your ride in a helicopter
Our team at Heli Alaska recommends you book a ride in a helicopter with us to experience the stunning natural beauty of Alaska from the air. With several tour options to choose from – the Hatcher Pass Tour, Knik Glacier Tour, and Prince William Sound Tour – you can enjoy breathtaking views of glaciers and mountains with our experienced pilots and top-notch R44 helicopters.
Furthermore, safety is our top priority. Our pilots undergo rigorous training, and we maintain our aircraft to the highest standards to ensure your safety and satisfaction. As a result, we have earned a reputation as one of the most trustworthy and reliable helicopter tour companies in the state.
Before your ride in a helicopter, dress appropriately for high altitudes and windy conditions. Even on a warm day, it can be chilly, and the wind generated by the rotor can be strong. So, we recommend wearing layers and comfortable, closed-toe shoes. Don't forget to bring sunglasses, a hat, and a camera to capture the stunning views.
All-in-all, booking a ride in a Helicopter with Heli Alaska is a unique and unforgettable experience that you shouldn't miss out on. From the moment you step into our R44 helicopters until you touch down again, our team will ensure your safety and satisfaction. Book your flightseeing tour today and create memories that will last a lifetime. Don't wait, contact us today to schedule your next adventure.
BOOKING YOUR HELI ALASKA HELICOPTER TOUR
Do our Helicopter flight seeing tours sound like the right trip for you? If so, it's easy to book online or over the phone. Our automated booking system lets you pick your date and number of passengers with your phone or desktop computer. However, if you have any issues or questions, please do not hesitate to contact us.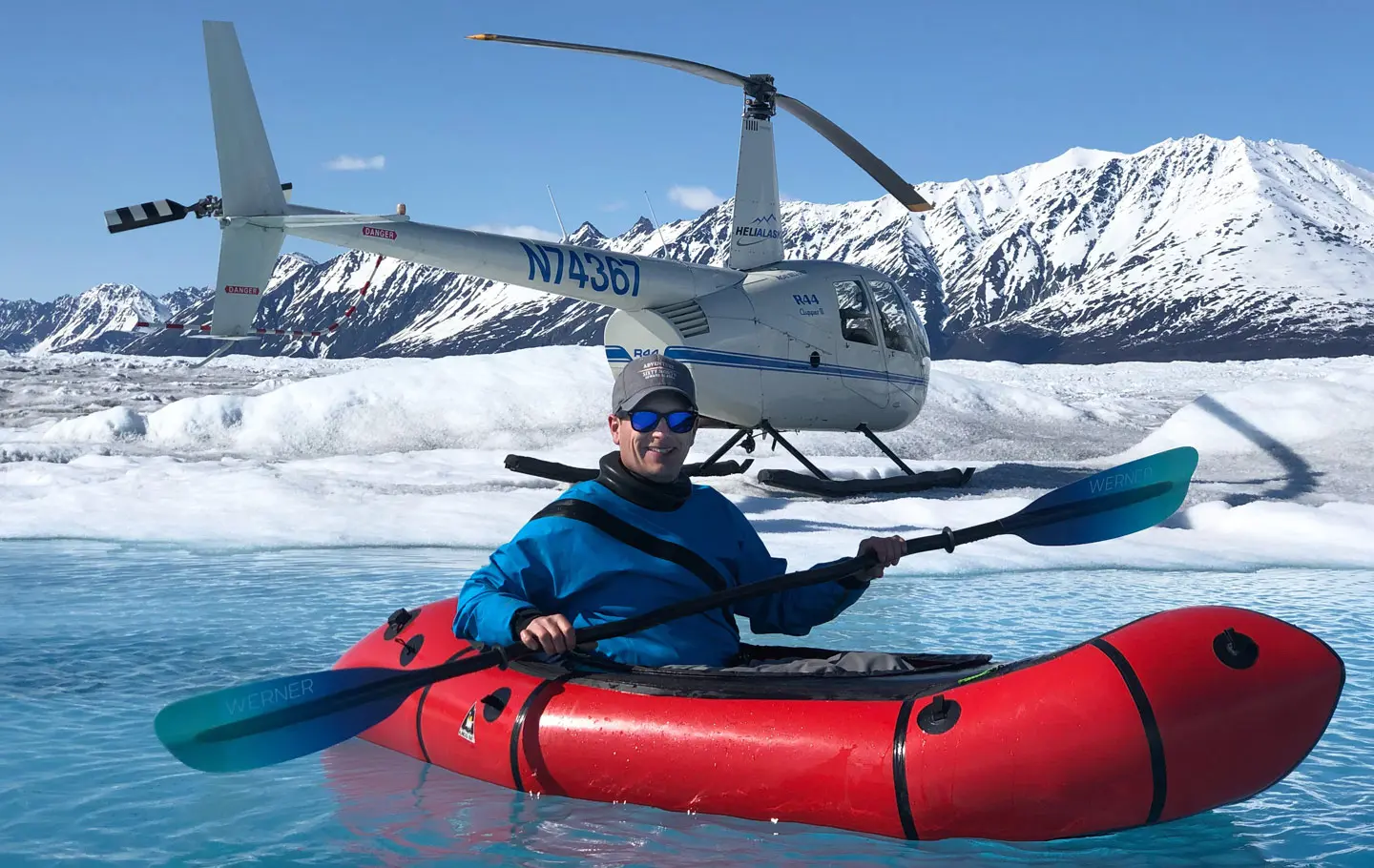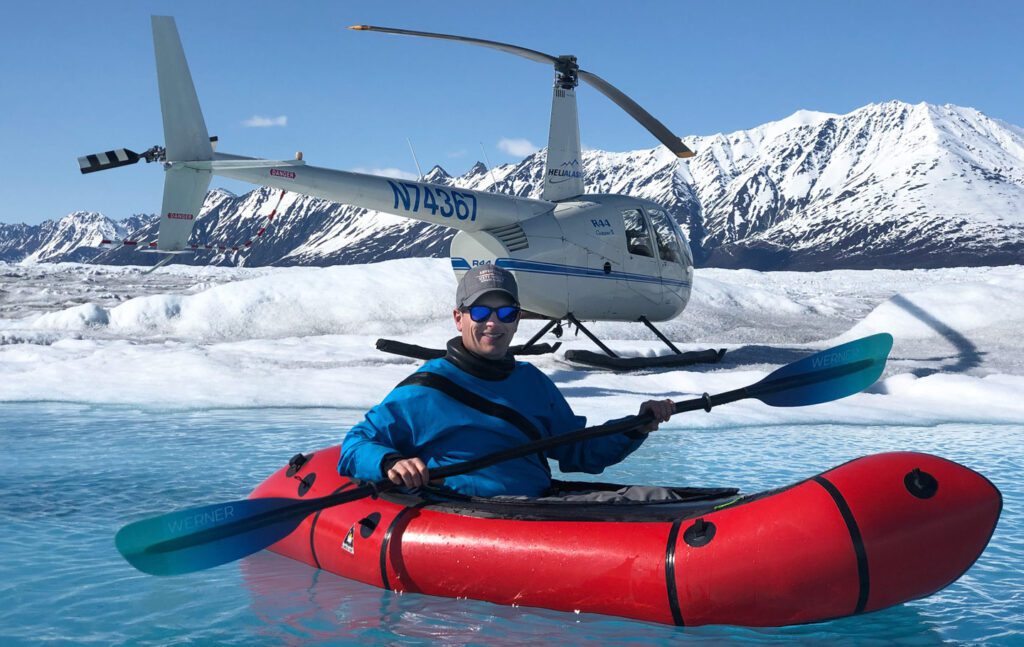 If you are nervous about flying for any reason, we will be happy to walk you through the process or make arrangements to improve your experience. Again, please feel free to get in contact using the contact page. Our pilots love flying and think you will, too, though we understand everybody's needs are different. One of us will be happy to assist you wherever possible.
If you'd like to discuss customizing your tour, give us a call, and we'd be happy to accommodate your needs.