PROFESSIONAL & EXPERIENCEd Tours
Marvel at the beauty of Alaska from a whole new perspective by booking a helicopter tour with Heli Alaska. Our team of experienced pilots, native Alaskans with thousands of hours of flight time, will take you on a safe and unforgettable adventure through the stunning landscapes and wildlife of Alaska.

Come fly with us and experience the beauty of Alaska from the sky.
Conveniently located at our hangar facility, we offer luxury pickup options to make your experience even more enjoyable. During your Alaska helicopter tour, you'll see glaciers, mountains, and wildlife, including moose, bears, and other indigenous animals. Our knowledgeable team will provide you with more information about the sights you'll see on your tour.
At Heli Alaska, we prioritize knowledge, experience, and skill, which form the foundation of our commitment to providing the best helicopter tour experience in Alaska. When you fly with us, you can trust that our expert pilots prioritize your safety and enjoyment.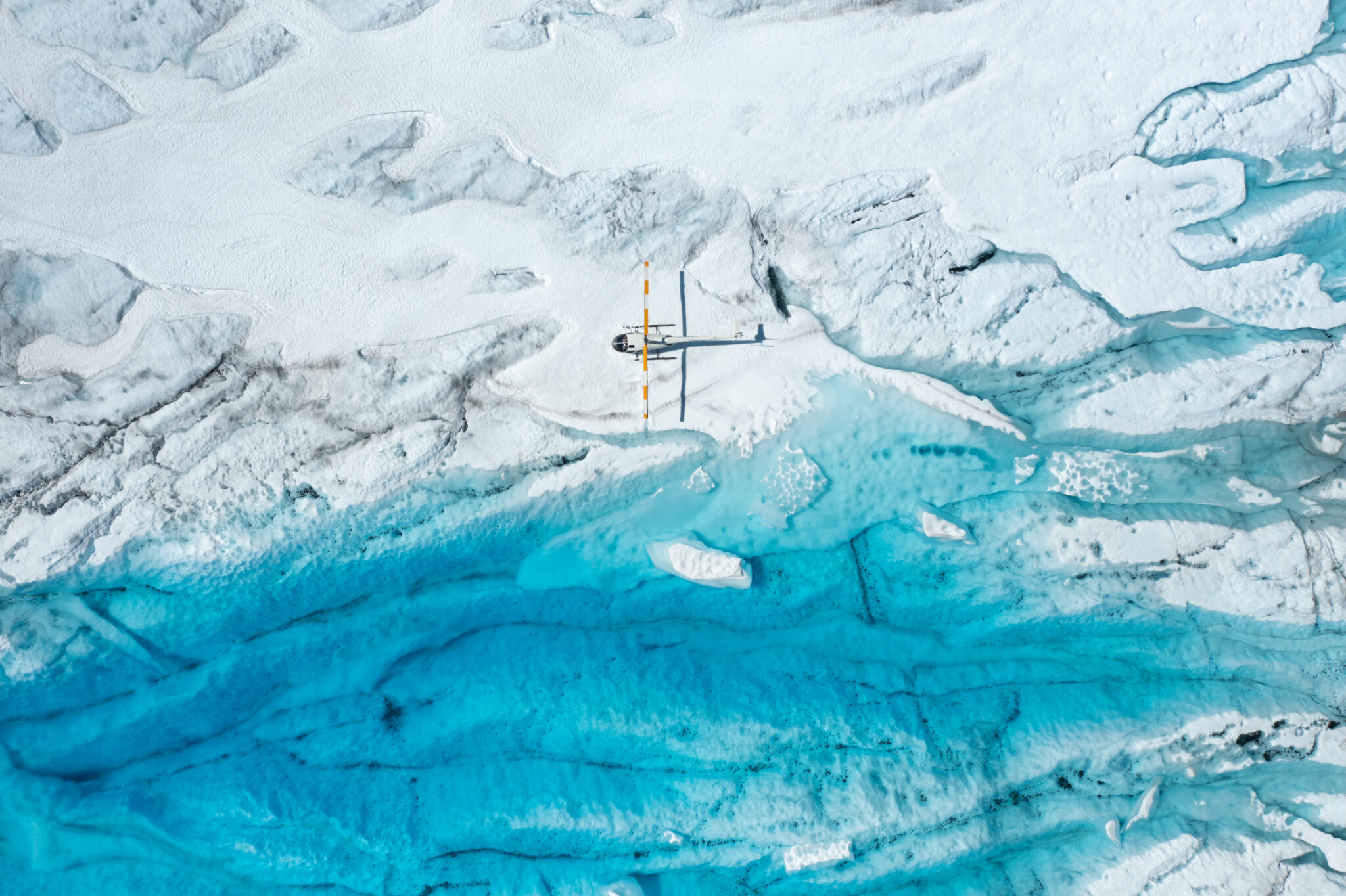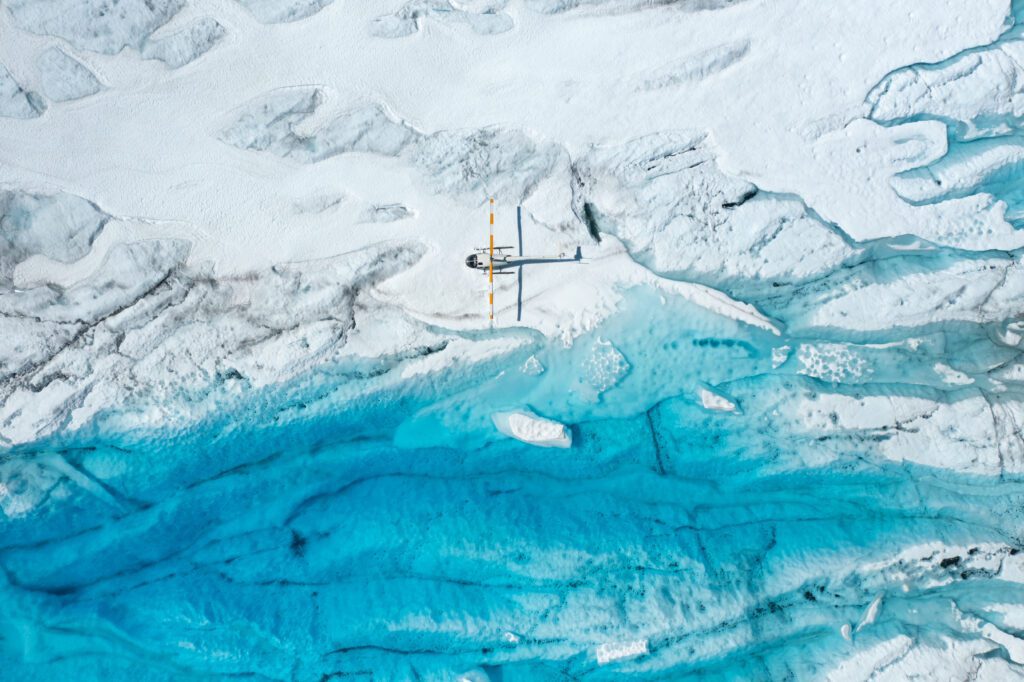 BOOK YOUR Heli ALASKA TOUR NOW
Looking for an unforgettable Alaskan experience? Take to the skies with Heli Alaska! Our helicopter tours offer breathtaking views and an adventure of a lifetime.
Experience the beauty of Alaska from above with our expert guides. They provide informative commentary and ensure your safety throughout the tour.
At Heli Alaska, our expert guides offer informative commentary and prioritize safety throughout the Alaska helicopter tour. As a result, you can relax and fully immerse yourself in the moment, taking in the beautiful scenery from above.
To create lasting memories, book your tour with Heli Alaska today. Don't miss out on the chance to explore Alaska's stunning landscapes from a unique perspective. With us, you'll get an unforgettable experience that you won't find anywhere else.
Heli Alaska is your premier Alaska helicopter charter provider based in Wasilla. As an FAA-certified Part 135 Air Taxi and Part 133 External Load operator. Moreover, HAZMAT authorization, allows us to provide technical helicopter charter services in a range of applications.
At Heli Alaska, we recognize that each client has individual needs. Therefore, we work with our customers to offer customized solutions. Our team is dedicated to providing the safest and most efficient Alaska helicopter services, guaranteeing your satisfaction on every flight.
At Heli Alaska, we prioritize safety, quality, and reliability in every aspect of our operations. Whether you need corporate travel or scenic tours, our team provides unparalleled service to meet your needs. We have stringent safety protocols in place and our pilots are experienced professionals. We prioritize the safety of our passengers above all else.
In addition to safety, we place a strong emphasis on quality. We maintain our helicopters to the highest standards and regularly inspect and service them to ensure they are in top condition. Moreover, our team is comprised of experienced professionals who are committed to delivering reliable service every time. We understand the importance of punctuality and reliability, particularly in the area of helicopter charters.
Heli Alaska's commitment to safety, quality, and reliability has made us a leading provider of Alaska helicopter charters. Our team is dedicated to providing exceptional service to meet your needs and exceed your expectations.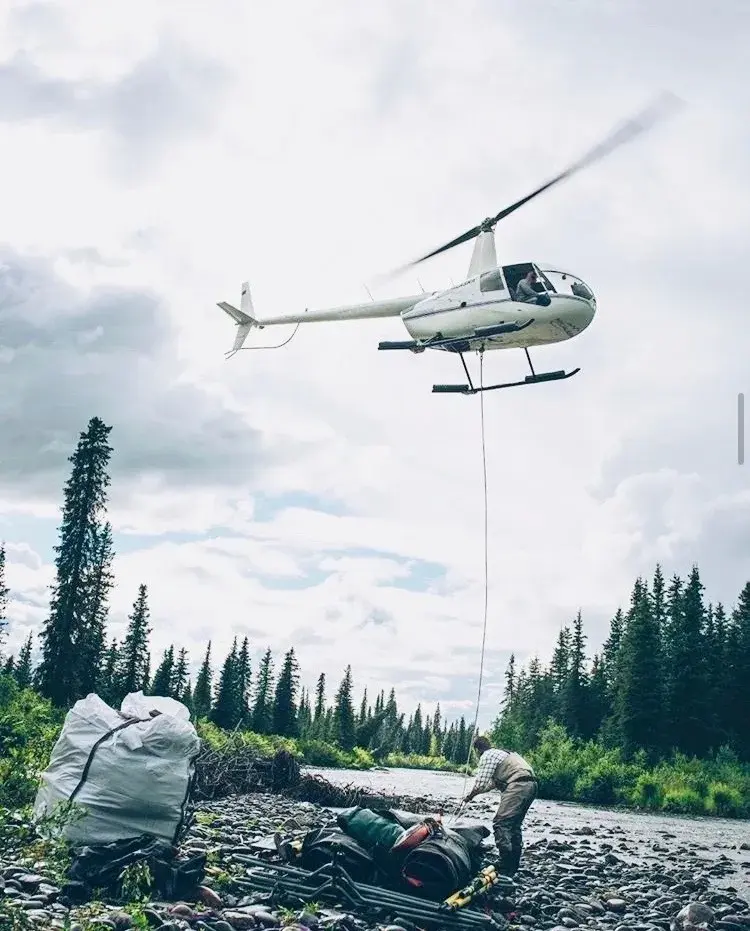 BOOK A Heli AlaskA CHARTER
At Heli Alaska, we offer safe and comfortable solutions for various specialized operations with our licensed pilots and top-of-the-line helicopters in Alaska. Moreover, our helicopters are equipped with the latest technology to support telecommunications and repeater systems in remote areas.
For maintenance and inspection work, we provide power line and pipeline support. Additionally, snowmobile/snow machine recovery is a regular activity in the region for Heli Alaska.
We provide fast and efficient transportation to and from work sites, making our helicopters perfect for crew and cargo transport. Moreover, we offer fish and wildlife tracking services, which allow you to monitor and survey wildlife populations effectively.
Our advanced equipment and experienced pilots make our aerial surveying services ideal for geological research, resource exploration, or environmental studies. We can easily access remote areas, collect valuable data quickly and efficiently.
In addition, we offer aerial photography and videography services, capturing stunning aerial footage for your film or photography project. With our pilots' photography skills and helicopters equipped with mounts and stabilizers, we ensure steady, smooth footage.
Finally, we are dedicated to providing professional and flexible helicopter charters for all types of operations. Contact us today through our contact page to book your specialized charter and experience Alaska from a unique perspective.
AN ALASKAN HELICOPTER COMPANY
Are you ready for a breathtaking Alaska helicopter experience that you'll never forget? Look no further than HeliAlaska! As one of the most prominent helicopter tour agencies in Alaska, we pride ourselves on offering exceptional flightseeing and charter services.
With our top-of-the-line Robinson helicopter fleet and experienced FAA-certified pilots, HeliAlaska provides a first-class flying experience like no other. Additionally, our pilots are experts in navigating the challenging terrain of Alaska, making for a safe and enjoyable ride.
At Heli Alaska, safety is our top priority. Therefore, our team conducts regular safety checks and maintenance on our helicopters, ensuring they're always in peak condition for every flight. You can trust us to provide a safe and enjoyable experience for every passenger.
Marvel at the sight of stunning glaciers and experience the beauty of the Alaskan landscape with Heli Alaska, your helicopter tour agency. Furthermore, our experienced pilots are trained to navigate our incredible terrain, ensuring a smooth and memorable flight. Whether you're planning a corporate event or a private charter, Heli Alaska has the expertise and flexibility to provide you with a customized flight plan to meet your specific needs.
Ready to make your Alaska helicopter dream a reality? Book your flight with Heli Alaska today and experience the beauty of Alaska firsthand!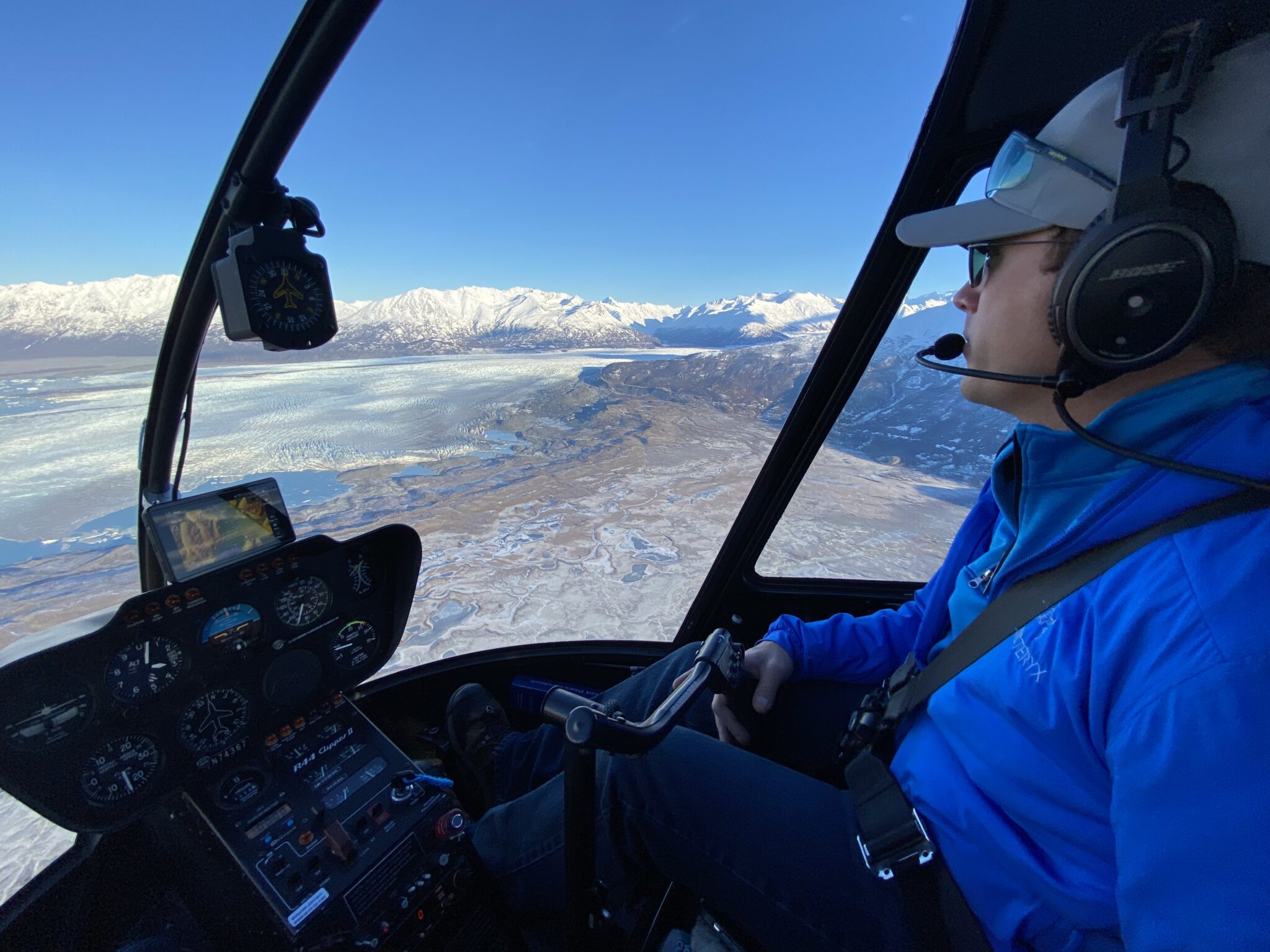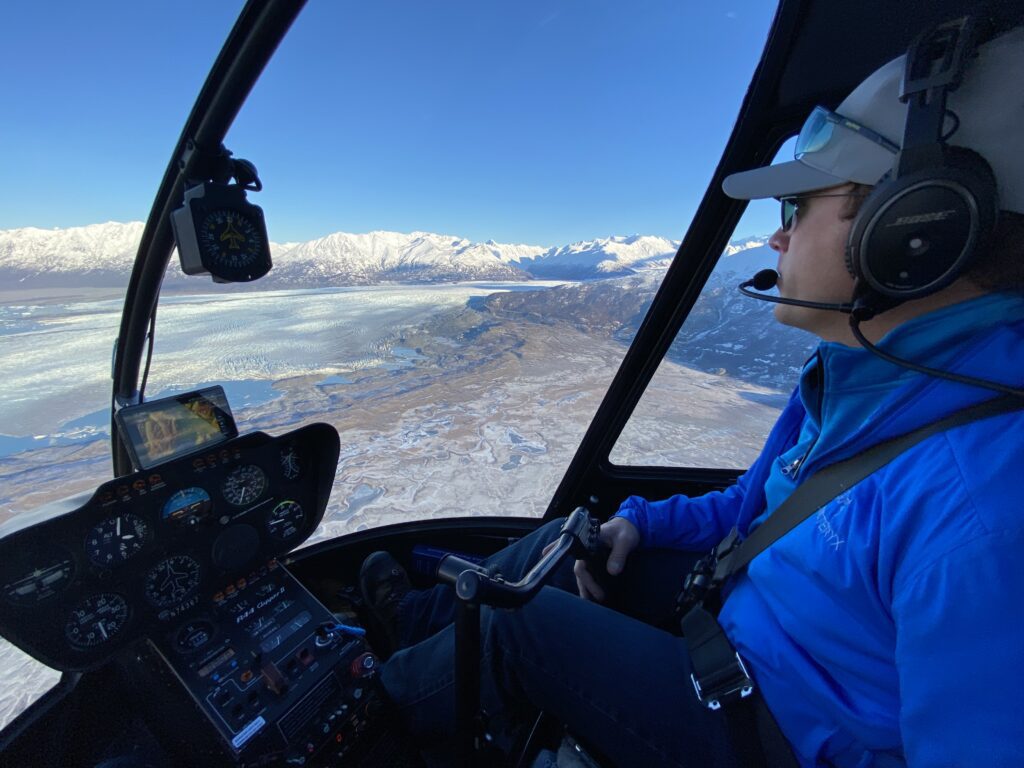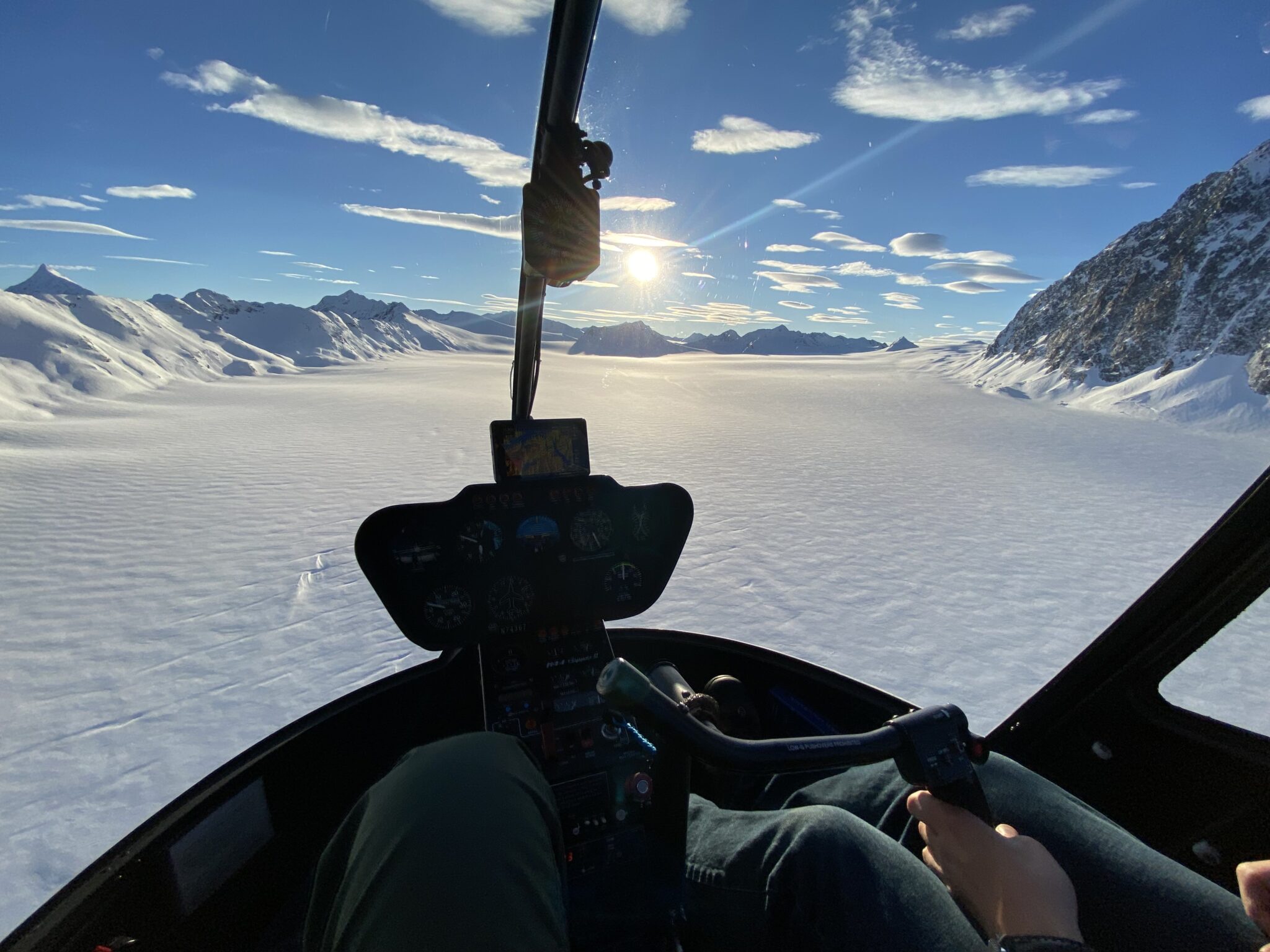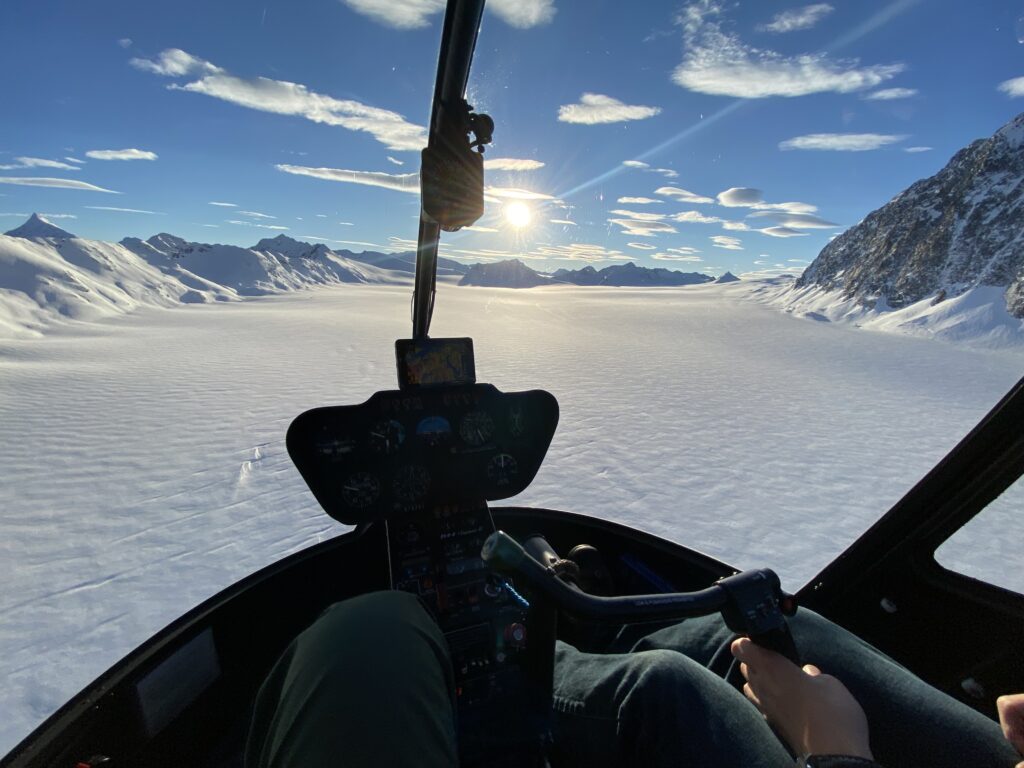 Your ride with Heli Alaska
Looking for a thrilling adventure in Alaska? Look no further than HeliAlaska. Not only do we have state-of-the-art helicopters, but our experienced pilots provide unparalleled tours and charters, making us the top choice among Alaska helicopter companies.
With a variety of packages to choose from, we cater to any budget and occasion, whether it's a romantic getaway or a corporate retreat. Our team of professionals is here to customize your ride in a helicopter to meet your specific needs. And with the capacity to accommodate groups of any size, Heli Alaska is perfect for family outings or group adventures.
Safety is our top priority at HeliAlaska. Our team is dedicated to providing an enjoyable and safe experience for all clients. Our helicopters are well-maintained, ensuring a comfortable and worry-free ride in a helicopter. Additionally, you'll be in the hands of the best pilots Alaska has to offer, who will provide a thrilling and informative tour of Alaska's stunning scenery.
So why wait? Book a tour or charter with HeliAlaska today and experience the ultimate adventure. Don't miss your chance to ride in a helicopter and see the beauty of Alaska from a unique perspective. Additionally, if you're looking for the best helicopters Alaska has to offer, you've found them. Come fly with us and create memories that will last a lifetime.
As a leading provider of helicopter tours and Charter in Alaska, we take pride in providing exceptional customer experiences. To continue improving, we rely on customer feedback.
From the moment I called to inquire Justin was super friendly and helpful. Dusty was the best tour guide. This wasn't your typical flight-seeing tour. He told us about all the different glaciers and how some have changed over the years. They made this the greatest experience ever! Even if you'd had the chance to go up before you have to do it again with Heli Alaska, Inc. You will not be disappointed! Thank you guys for such a great time!!

– Brandi West
Great experience!!
Justin and Dusty were friendly professional and personable. Got us in on the short notice. Phenomenal views of the Glaciers, Moose, and Mountain goats. Smooth flight and very informative! Would Highly recommend using them.
Thanks for helping us create a great memory!!
– Loren Kinnunen
Rob was our pilot and he was absolutely awesome! We got to see a lot of wildlife and just beautiful scenery. We stopped at Knik Glacier and I got to fill up my water bottle with some glacier water! This was definitely the highlight of my trip to Alaska and something I'll remember forever! I would highly recommend this company!!

– Molly Perdue
Our Location:
Hanger #4, 
4130 West Aviation Ave.,
Wasilla, Alaska