The KNIK GLACIER HELICOPTER TOUR
The Knik Glacier Helicopter Tour is our most popular flight. See five Alaskan glaciers from above before landing for an adventure most people won't experience in their lifetime: walking on a glacier! Priced at $595 per person, with a two-person minimum, this 60-minute flight also includes a 30-minute glacial landing in one of our Robinson R44 helicopters. The glaciers you'll fly over on the Knik Glacier Helicopter Tour are the Eklutna, Whiteout, Lake George, Colony, and Knik. You will see many more as we pass by.
KNIK GLACIER HELICOPTER TOUR Availability
See availability and choose a time for your tour. Or read on to find out more about the Knik Glacier Helicopter Tour with Heli Alaska, Inc.
FIND OUT MORE - Tour Quick LINKS
Jump ahead to find out more about each of the points of interest on your Knik Glacier Helicopter Tour with Heli Alaska. Learn about glacial landings, Chugach State Park, the many glaciers the tour includes. Also we explain the photography opportunities on offer, the route and other activities available in the region.
YOUR LANDING ON A GLACIER
Upon landing, your pilot will fit your shoes with crampons so you can safely walk around on the ice without slipping. Afterwards you'll have plenty of time to capture photos or videos, explore the ice and pools, and take in the surrounding scenery. Additionally for those of you brave enough, the glacier pools offer a polar plunge like no other. Although be sure to bring dry clothes or a towel if you want to participate. Also try a glacial mud mask if you are less inclined to jump in but still want to join in on the fun. Generally people pay upwards of $35 for an Alaskan mud mask in a jar. Why spend the money when you can get the full-on experience on the glacier?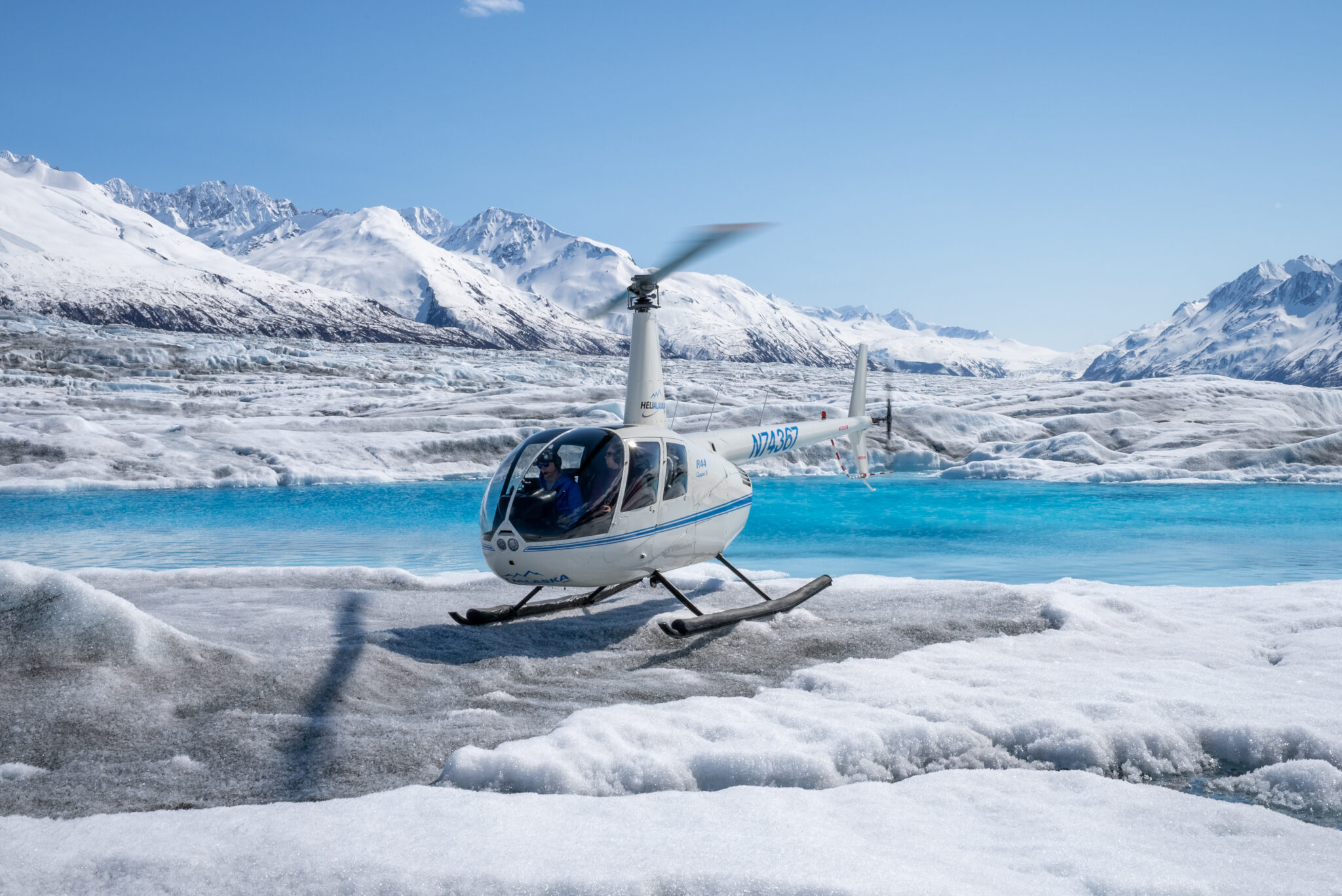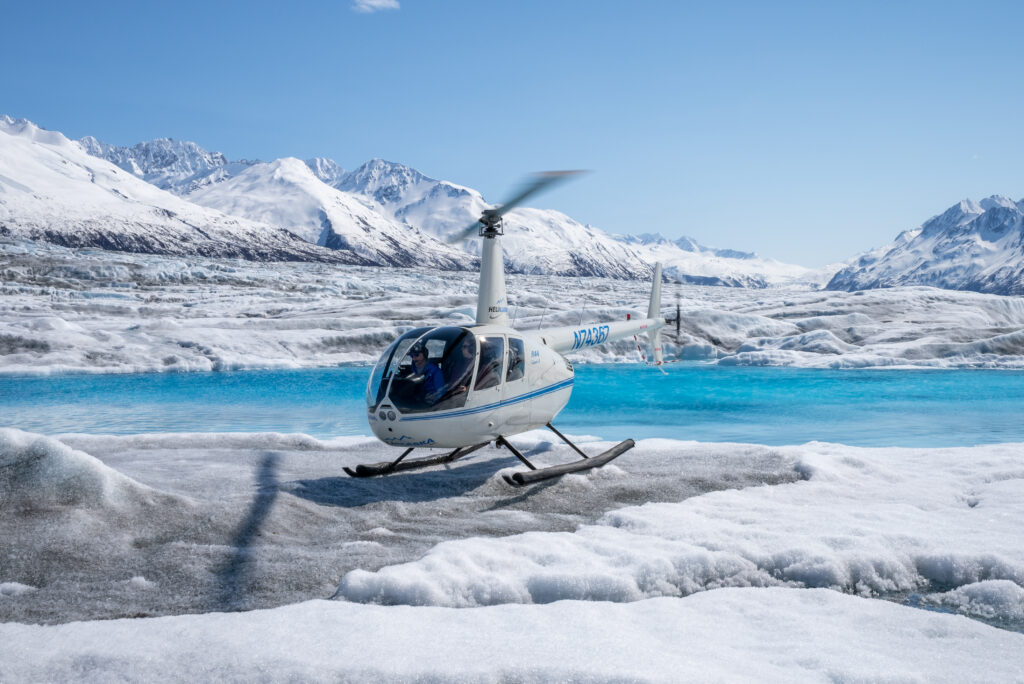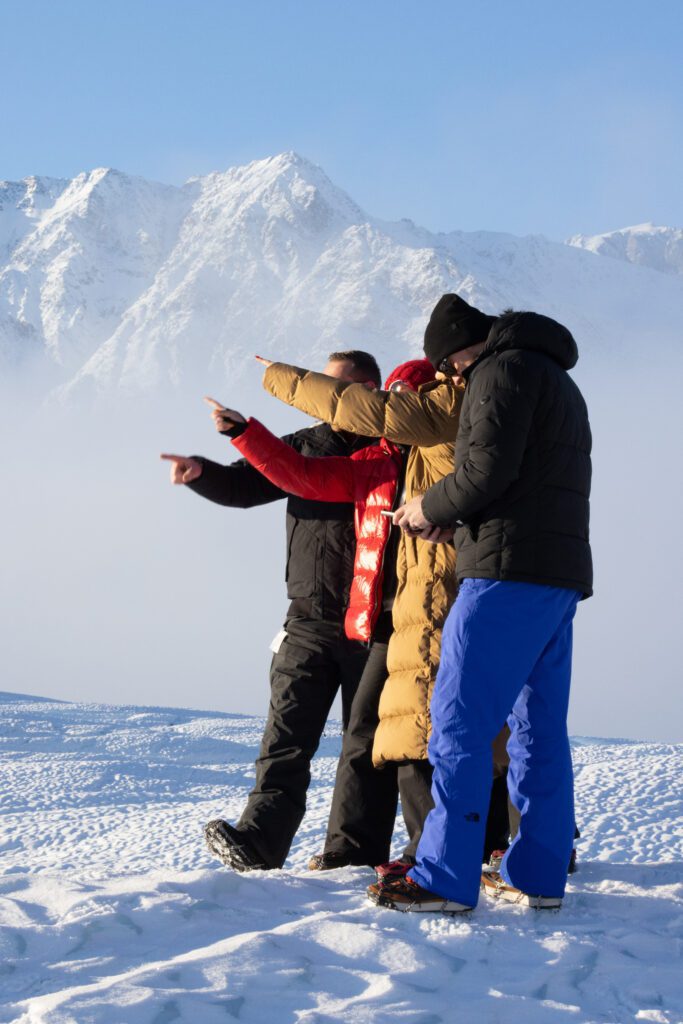 THE KNIK GLACIER DISTRICT - CHUGACH STATE PARK
Video from AlaskaStateParks: Chugach State Park borders Alaska's largest city, the Municipality of Anchorage, and is a 495,000-acre dream-come-true for outdoor enthusiasts. Once you've visited Chugach State Park, you will understand why Alaskans rarely leave The Last Frontier State in summer.
The Knik Glacier Helicopter tour circles to the southeast of Wasilla and Anchorage, weaving through Chugach State Park. This state park covers 495,204 acres, or 2,004 square kilometers, in the coastal region of South-central Alaska, creating recreational opportunities for locals and tourists alike. Chugach State Park was created in 1970 to protect the beauty of the Chugach Mountains, maintain a water supply for the city of Anchorage, and to further provide numerous recreational opportunities. The Chugach Mountains are famous for their wild forests, generally untouched by settlers.
Chugach State Park is managed by Alaska State Parks and is specifically the third-largest State Park in the U.S.. Following California's Anza-Borrego Desert State Park and secondly Western Alaska's Wood-Tikchik State Park. In any case, Chugach State Park is so vast it could contain New York City, Los Angeles, and Chicago within its borders.
Glaciers ON THE KNIK GLACIER HELICOPTER TOUR
Still inside Chugach State Park and the Chugach Mountains, but West of the Lake George Glacier is the Eklutna Glacier. Also known by its Dena'ina name Idlu Bena Li'a, this land-terminating glacier contributes significantly to Eklutna Lake. The seven-mile-long lake is the primary source of drinking water for the Anchorage community, and at the present time provides hydroelectric power via the Eklutna Hydroelectric Project. Find out more at Eklutna Hydro. The 40-megawatt facility, powers over 24,000 homes, and in addition is the lowest-cost renewable energy provider in southcentral Alaska.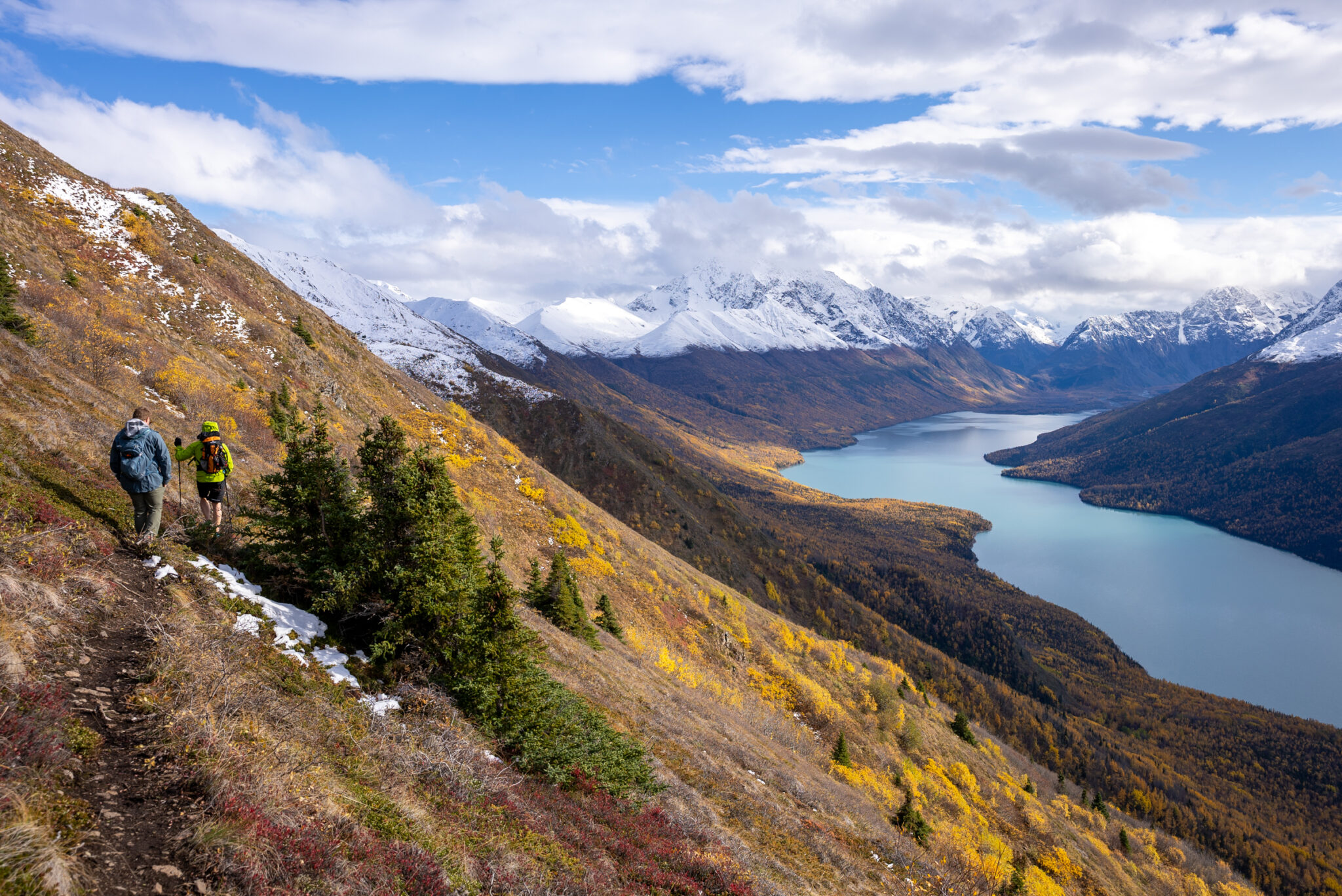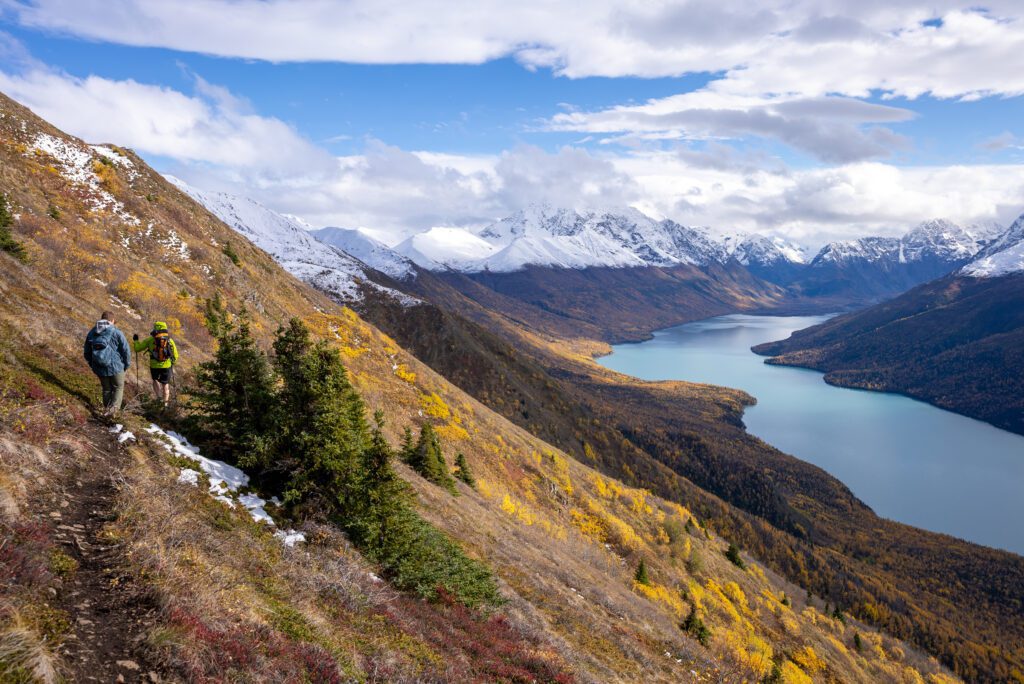 Similarly to all of Alaska's glaciers, Eklutna is in a word shrinking due to climate change. Furthermore, it has a negative mass balance, meaning more ice melts each summer than is replenished by winter snowfall. This negative mass balance obviously affects the fresh water supply to Eklutna Lake, Anchorage's primary water source.
After viewing the Eklutna Glacier you will fly over a large ice field, that is before descending over the Whiteout Glacier. Between the 1950s and mid-1970s, in the wake of the Second World War, both Whiteout Glacier and Eklutna Glacier were military training sites. Soldiers practiced skills for arctic warfare, including cross-country skiing, rappelling into crevasses, as well as glacier-travel safety. This harsh Alaskan winter training prepared soldiers for potential conflict in Northern Europe, as well as further afield in other tensions during the period, such as the Cold War. Eventually renamed Hans Hut, The Mountaineering Club of Alaska built Whiteout Glacier Cabin as part of the Eklutna Traverse. Alaska's Digital Archive has digitized the cabin's journal, recording traveler's notes for nearly three decades. Visit the Alaska Digital Archive to see more.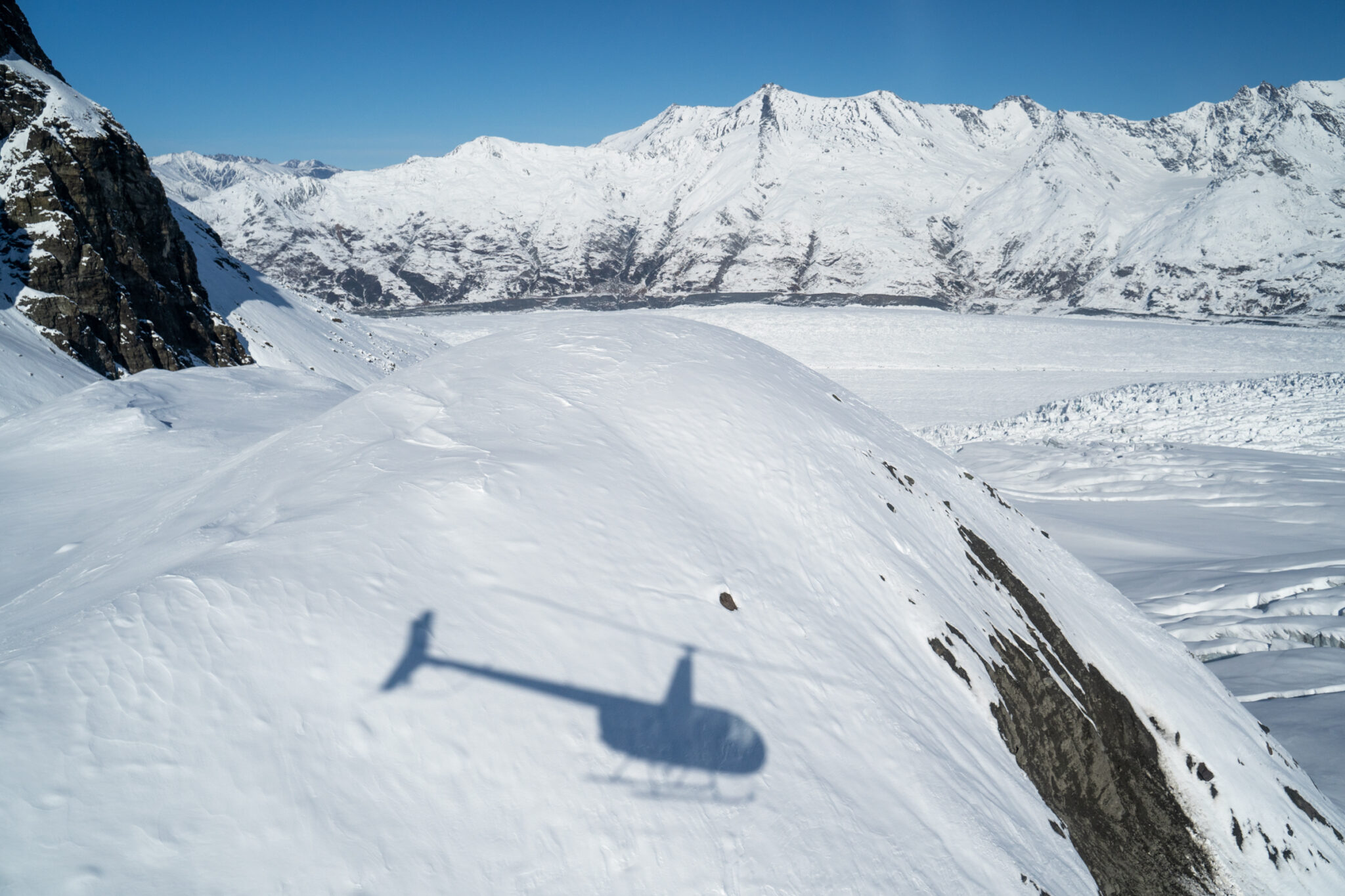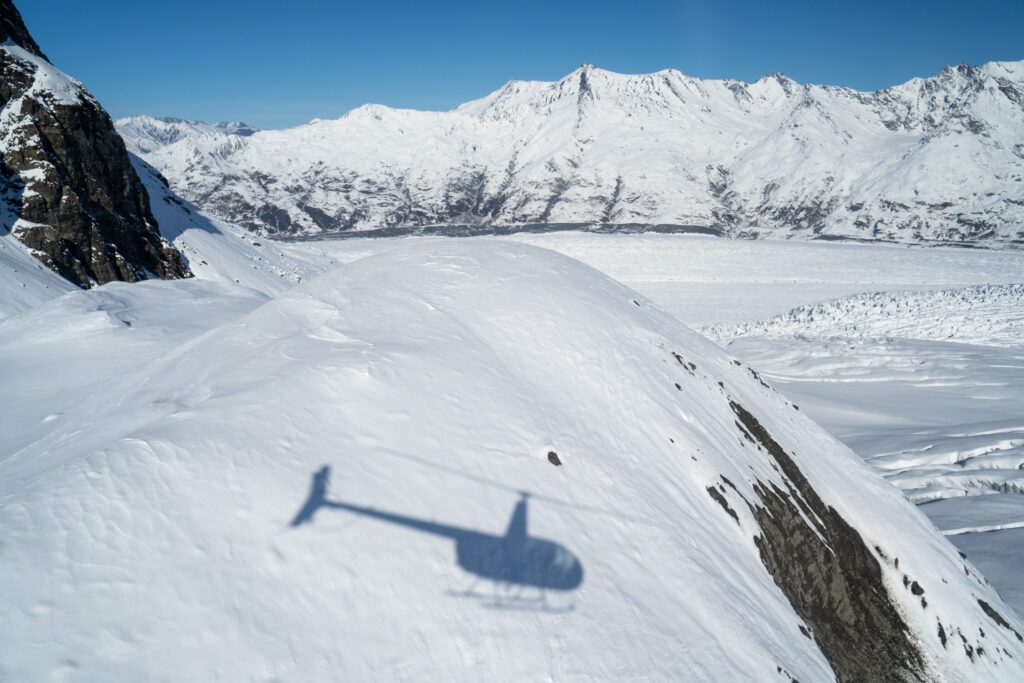 In 1963 the Mountaineering Club of Alaska named the glacier after nearby Whiteout Peak. Certainly the glacier is both a gatekeeper and a treacherous place to cross, even before attempting to summit the 6818 feet, 2078 m Whiteout peak. Due to frequent storms and crevasses, undoubtably many adventurers took shelter in the glacier cabin to weather the storms.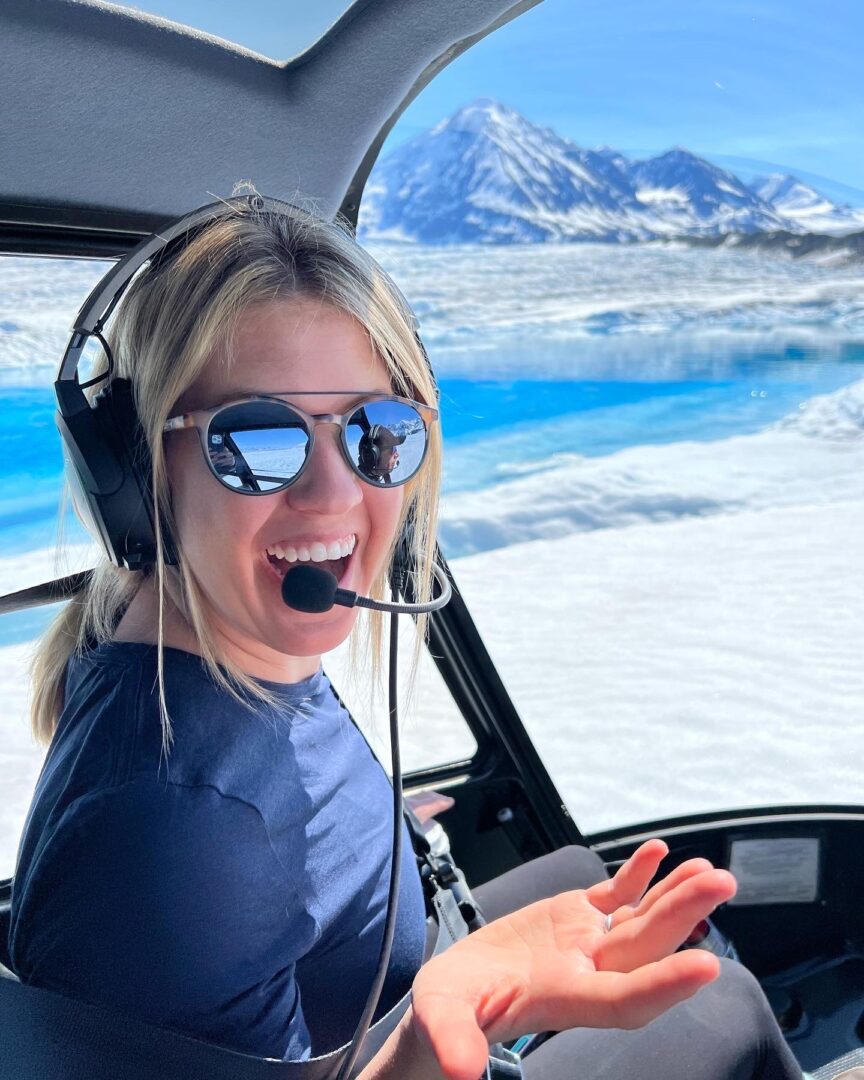 As you leave the toe of Whiteout Glacier, you will then get your first glimpse of Lake George Glacier. Whenever Lake George Glacier began to melt in the spring and summer, water would fill up the largest glacier-dammed lake in North America. This lake was closed by the Knik Glaciers advance, due to it's contact with the slope of the mountain to the west. For nearly 49 years prior to 1967, this lake would fill up each spring, and the dam would break at some point in the summer, at this point sending a rush of water down the Knik River Valley. The highway and railroad bridges roughly 20 miles away had to be reinforced due to this annual surge of floodwater from the lake.
The Colony Glacier is to the South of Lake George, calving into the lake each year. Also known as Diltishi Bena Li'a, the glacier is at 1037 ft, 316 m in elevation. The massive Mount Gilbert towers 9638 ft, or 2938 m, to the east of Colony Glacier. It was named after Grove Karl Gilbert, who was part of the US Geological Survey Harriman Expedition, in brief tasked with exploring the area in 1899. In fact find out more about Mount Gilbert and Karl here.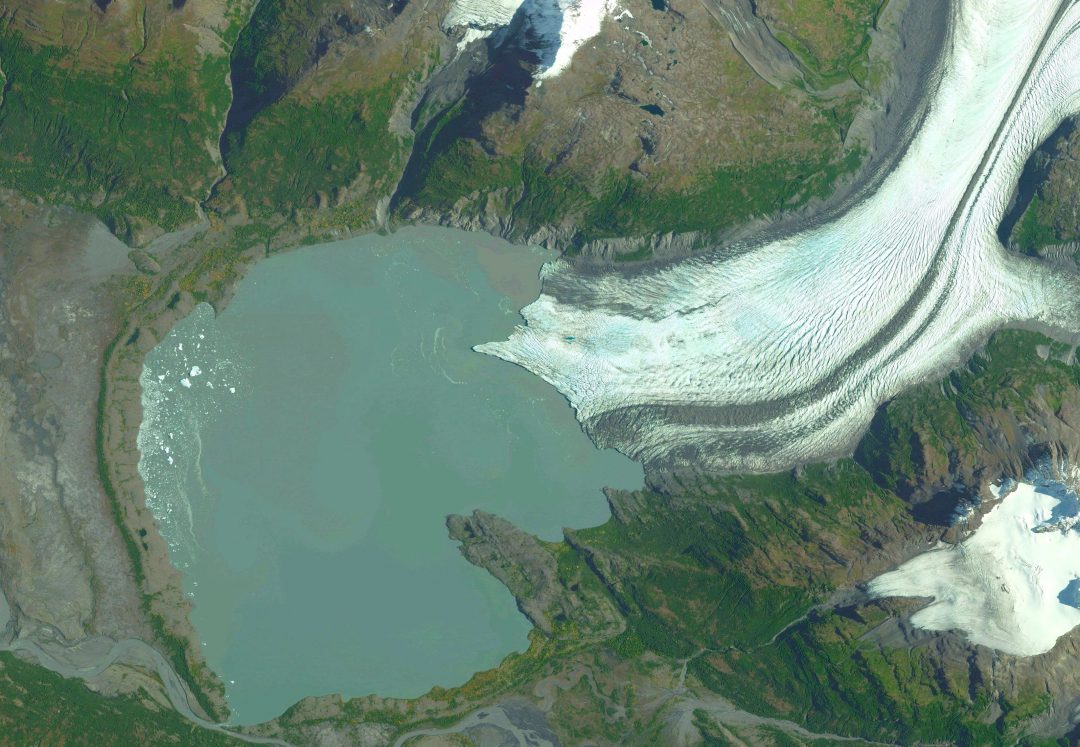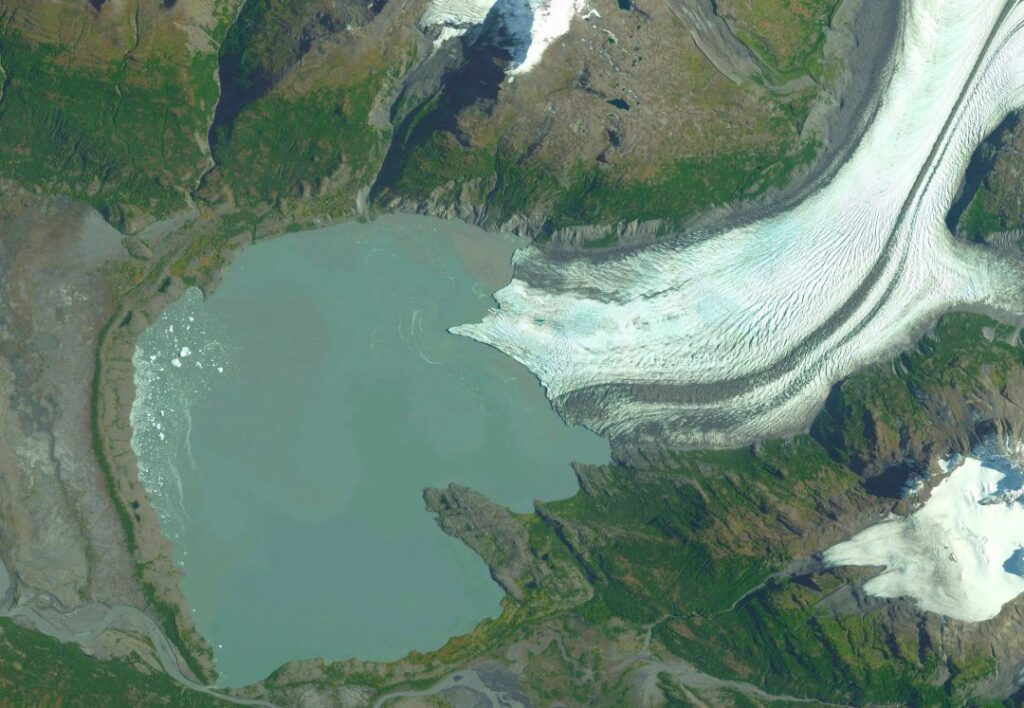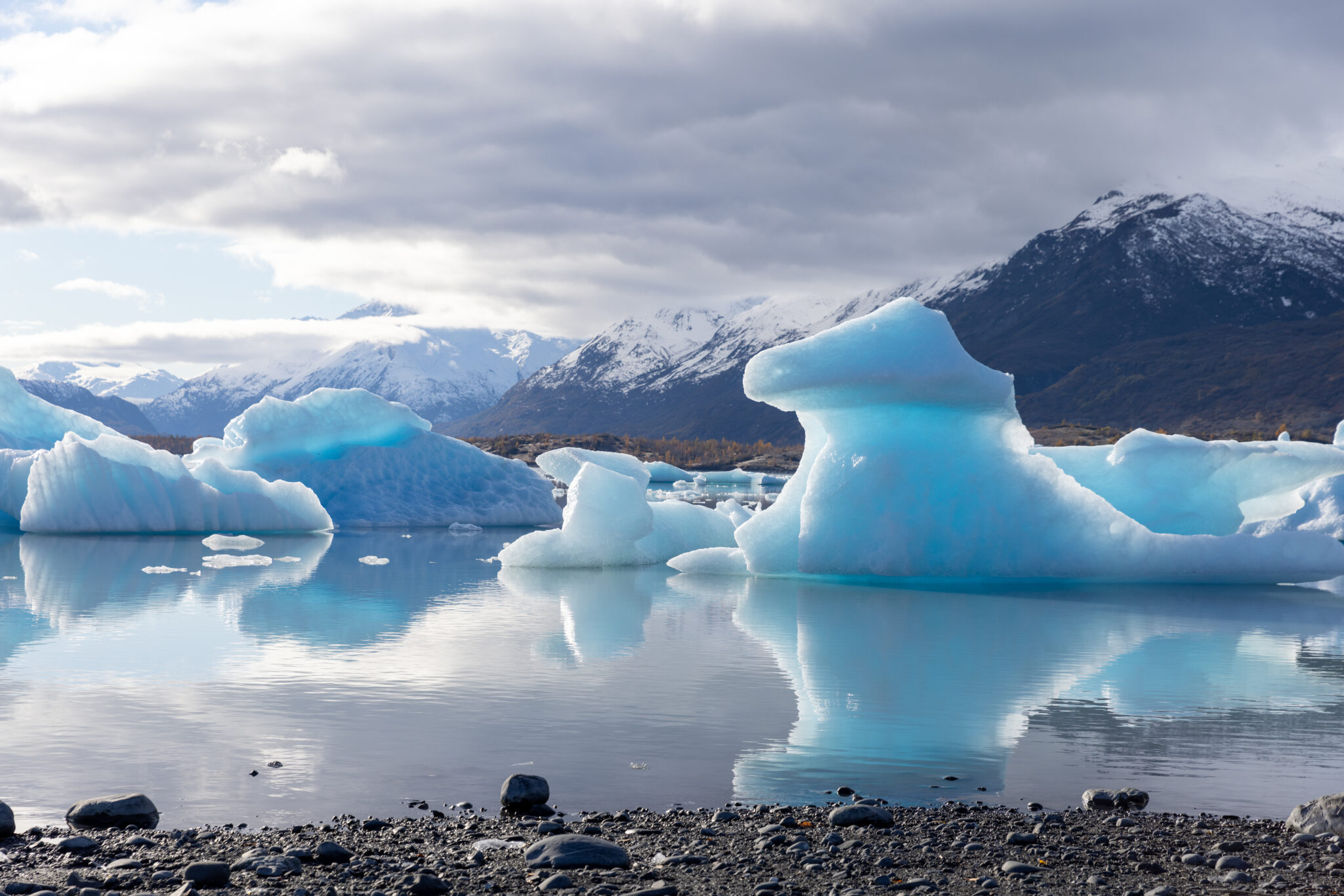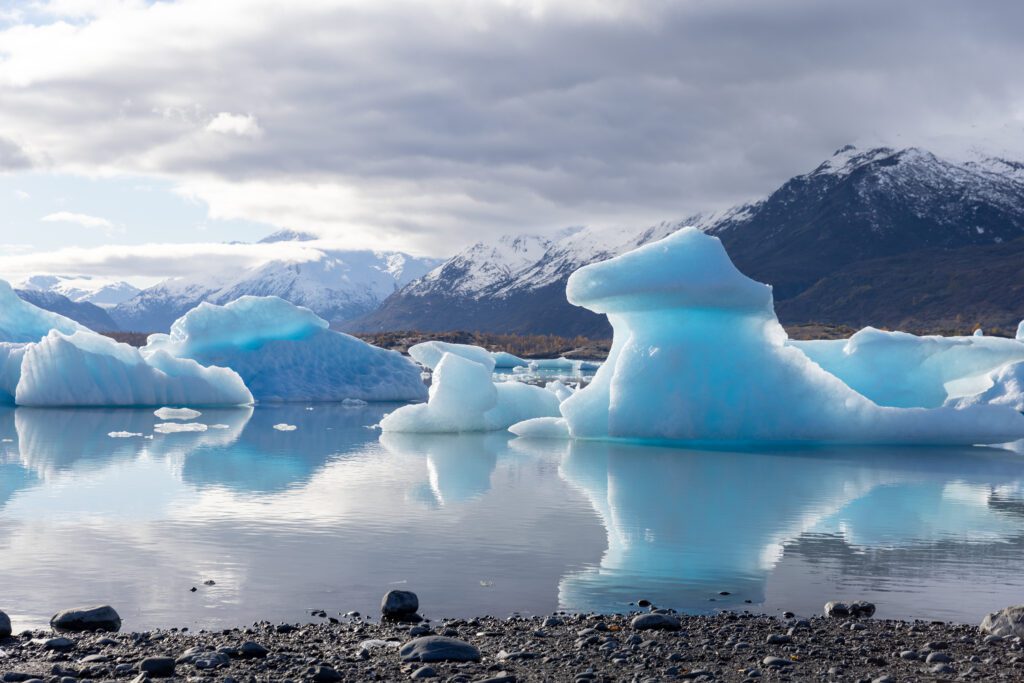 The Colony Glacier area sports spectacular waterfalls, ice falls, green slopes, and in paticular a terminus into Lake George, with occasional views of calving at the toe of the Colony. The toe of the glacier extends into Lake George and terminates in a series of cascades down the high face. Inner Lake George is all that remains of the larger Lake George mentioned above. Lake George was designated as a National Natural Landscape in 1967. On the Knik Glacier Helicopter Tour, mountain goats can regularly be seen around the Colony Glacier region. 
This short film from the Alaska Film Archives depicts the flood outburst as Lake George breaks through the Knik Glacier. However, this once-annual natural event has not reoccurred since 1967. This is a color, silent, super 8mm film containing excerpts from AAF-10633 in the Stewart's Photo Shop collection held by the Alaska Film Archives. For more information, please visit the Alaska Film Archives.


As the Knik Glacier Helicopter Tour's namesake and one of the largest glaciers in southcentral Alaska, the Knik Glacier is overall 50 miles East of Anchorage on the northern edge of the Chugach Mountains. This ice field averages over 25 miles or 40 km in length and in addition is over 5 miles or 8 km in width. Most impressively, it's about 400 ft or 120 m thick, in reality that's over 28 stories of ice! For context, that's a wall of ice 2.5 times taller than the Statue of Liberty.
The Knik Glacier is inaccessible by road. Typically it's reached via helicopters, planes, or jetboats. However, some intrepid hikers or in addition fat bike riders, can make the 8-mile journey on land. Unlike helicopters, however, no other methods can access the glacier to walk on. The 5-mile-long face of the glacier fronts into the Knik River, subsequently breaking apart or calving and falling into the river. The western part of the face is the area that used to block Lake George during the winter months. Witness this all from above during your tour. To find out more about the Kink Glacier, visit www.alaska.org.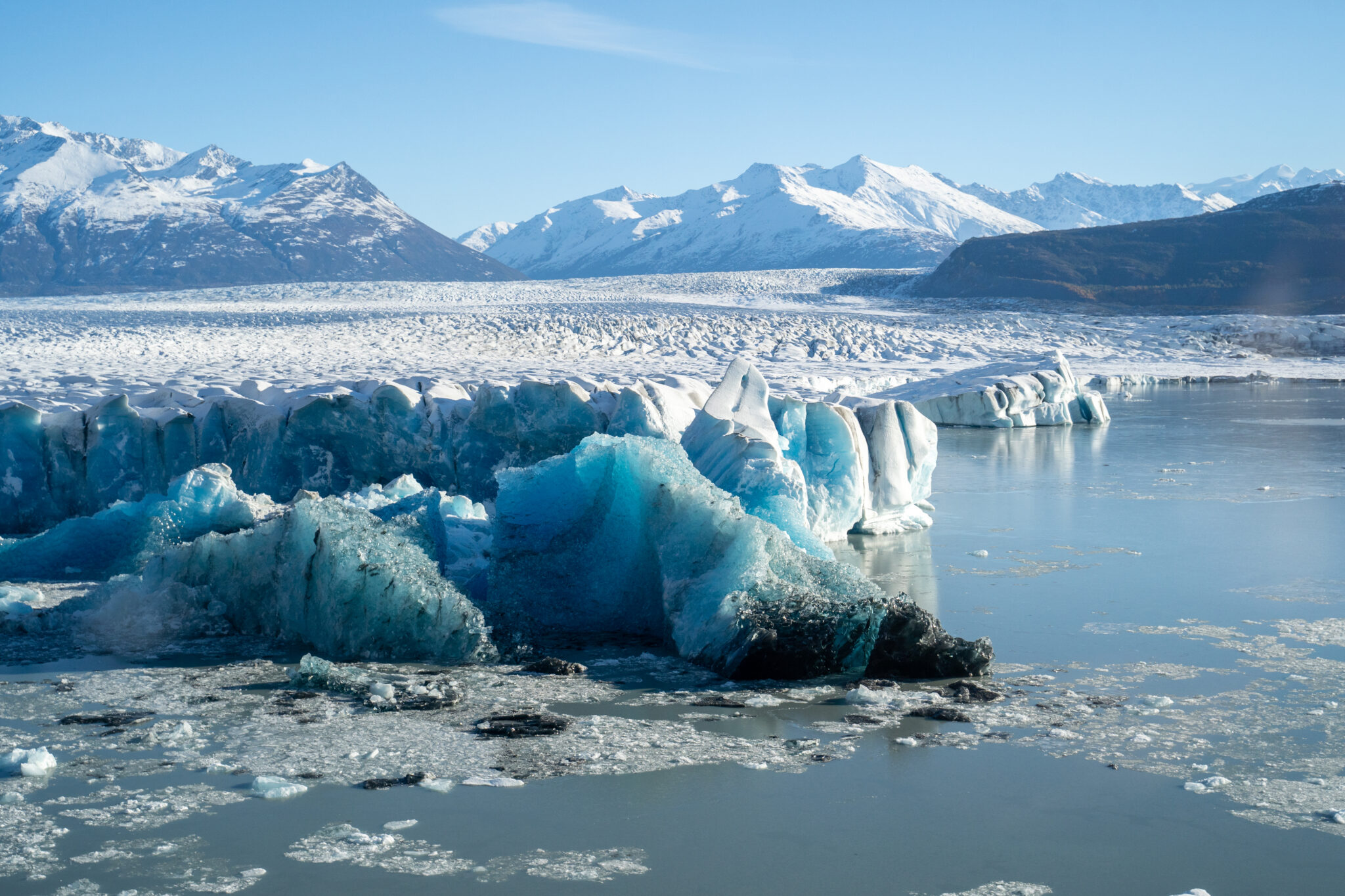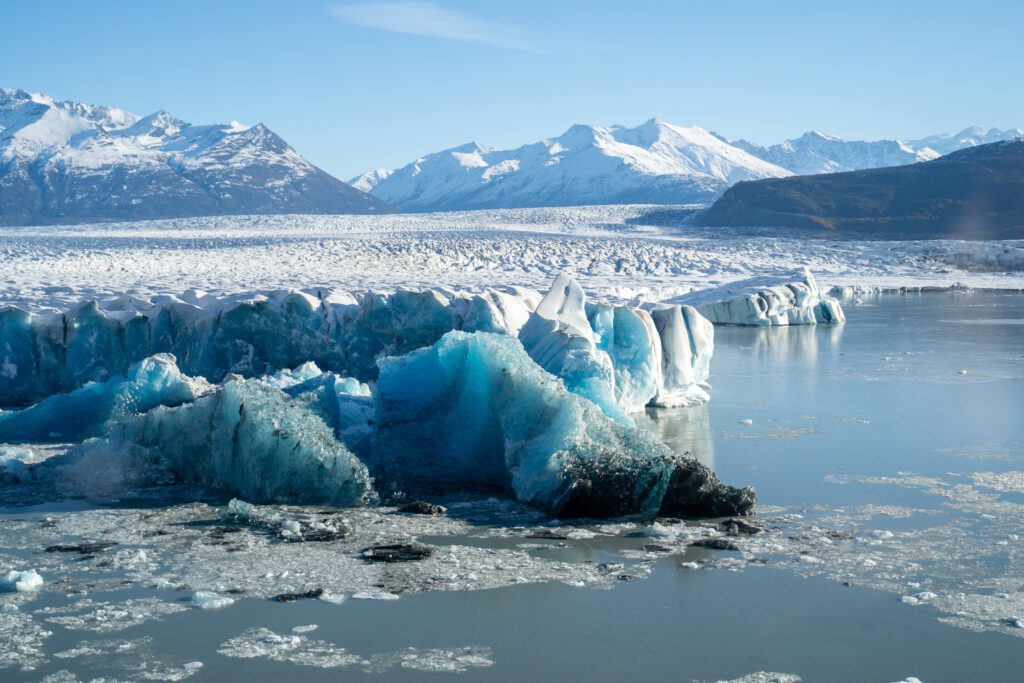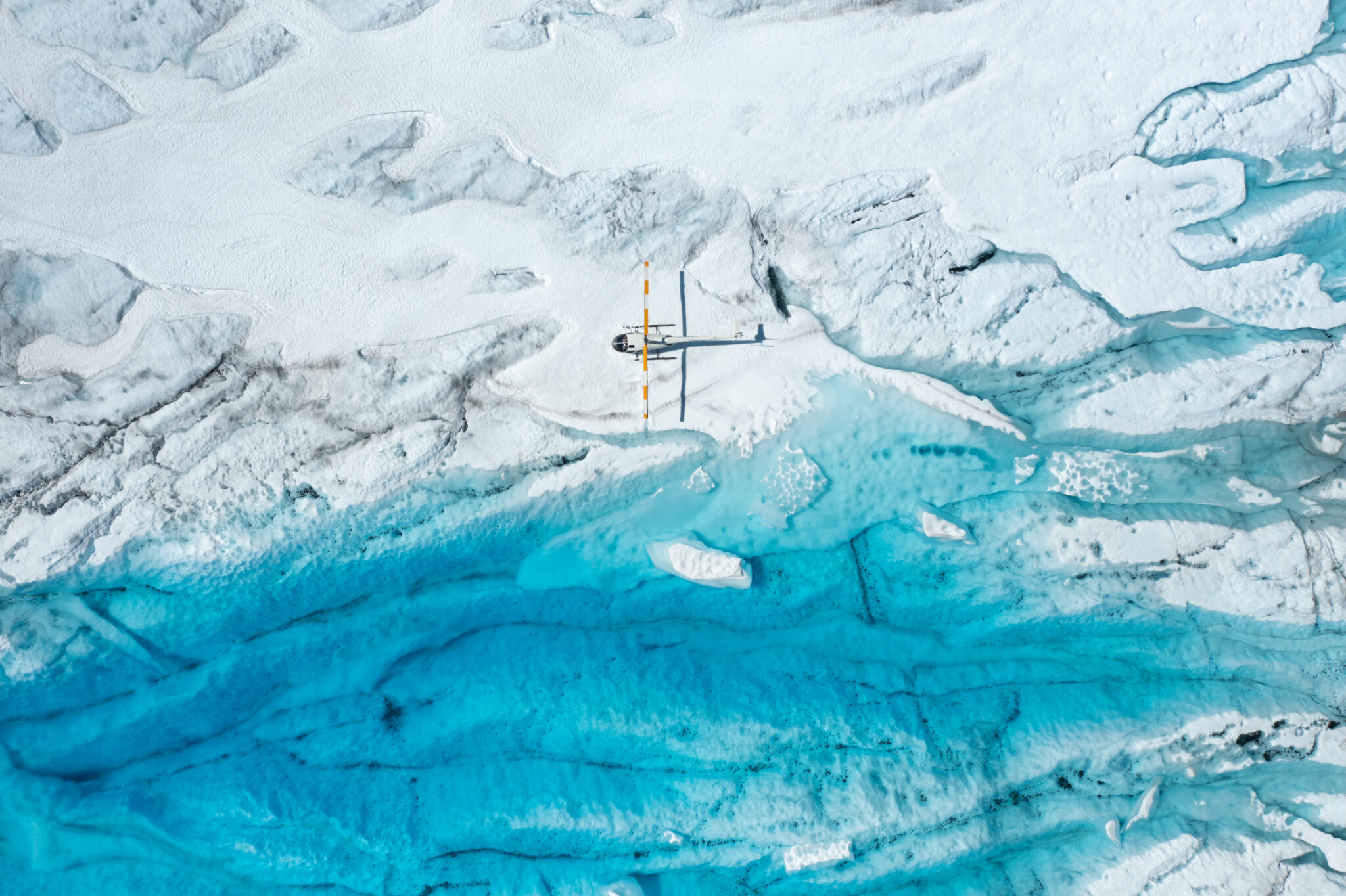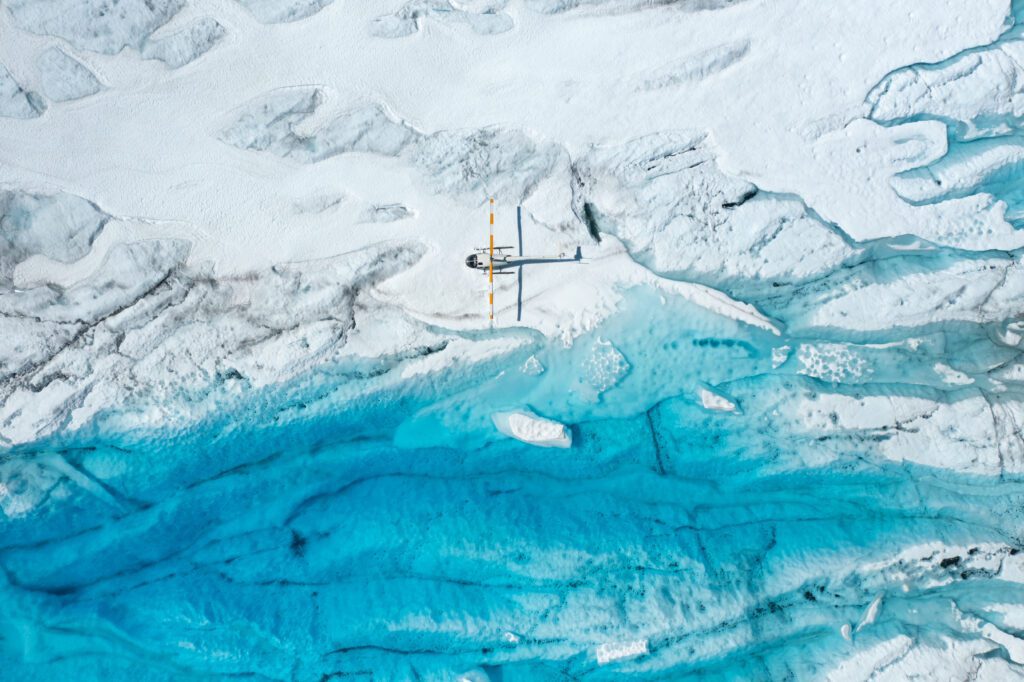 PHOTOGRAPHY DURING YOUR KNIK GLACIER HELICOPTER TOUR
Flying over not one but five glaciers is a dream for many photographers. Experience the beauty of a new perspective in our helicopter excursions. Witnessing one of the marvels of nature on an almost incomprehensible scale, glaciers genuinely are a sight to behold. With the occasional opportunity to witness calving, encountering gigantic blocks of ice falling into the lakes is incredible. Though we cannot guarantee them, we can certainly advise on the best time to fly for photography. Book your tour with Heli Alaska, Inc. and witness this stunning landscape on a truly epic scale, including glaciers, mountains, and lakes.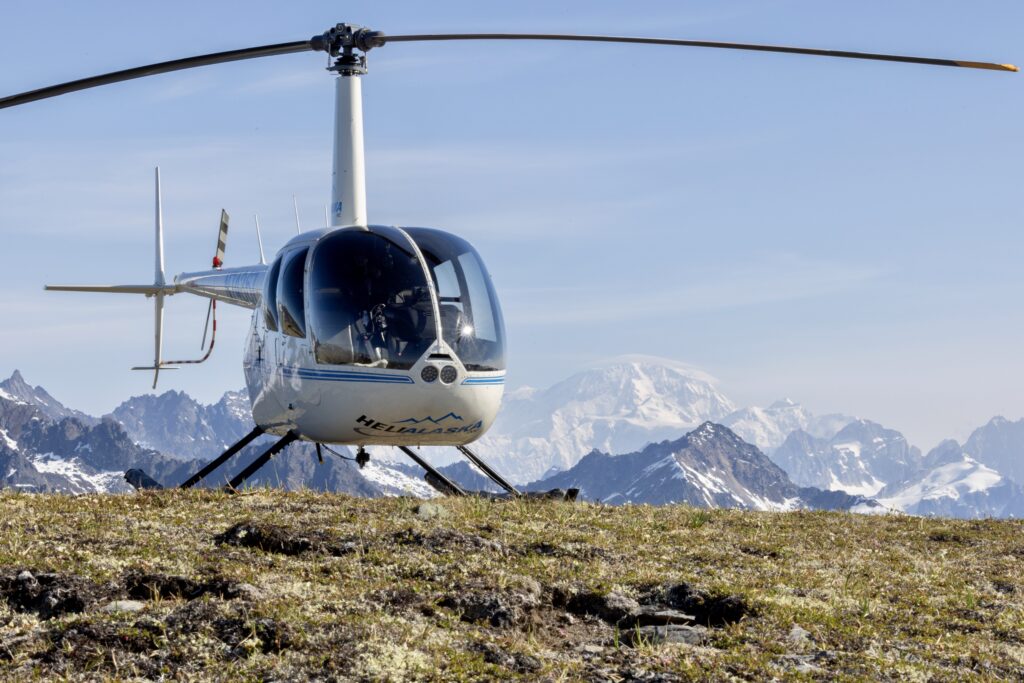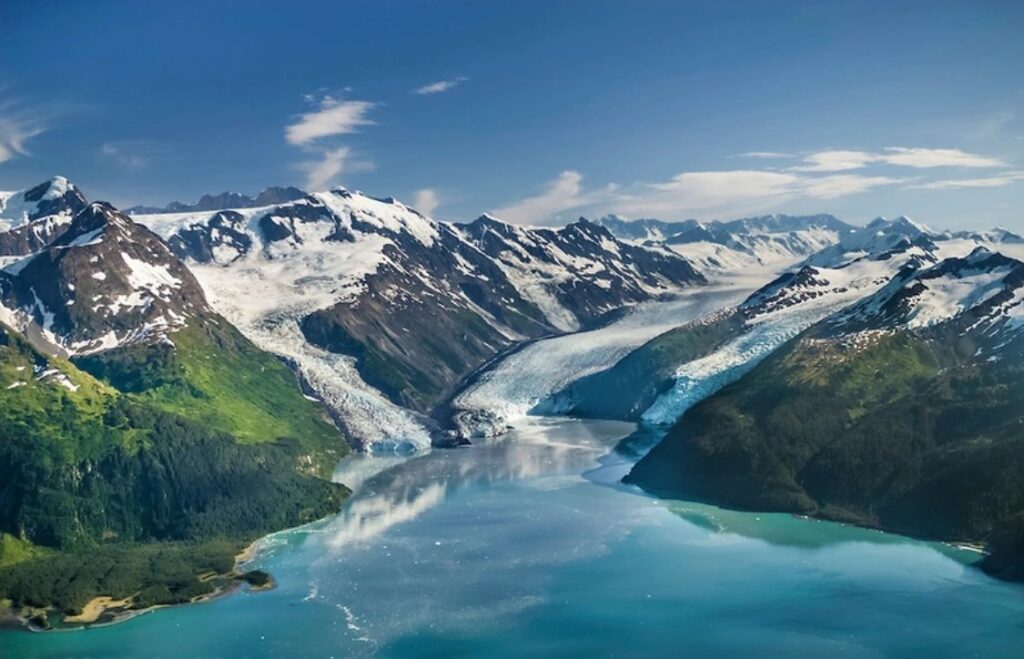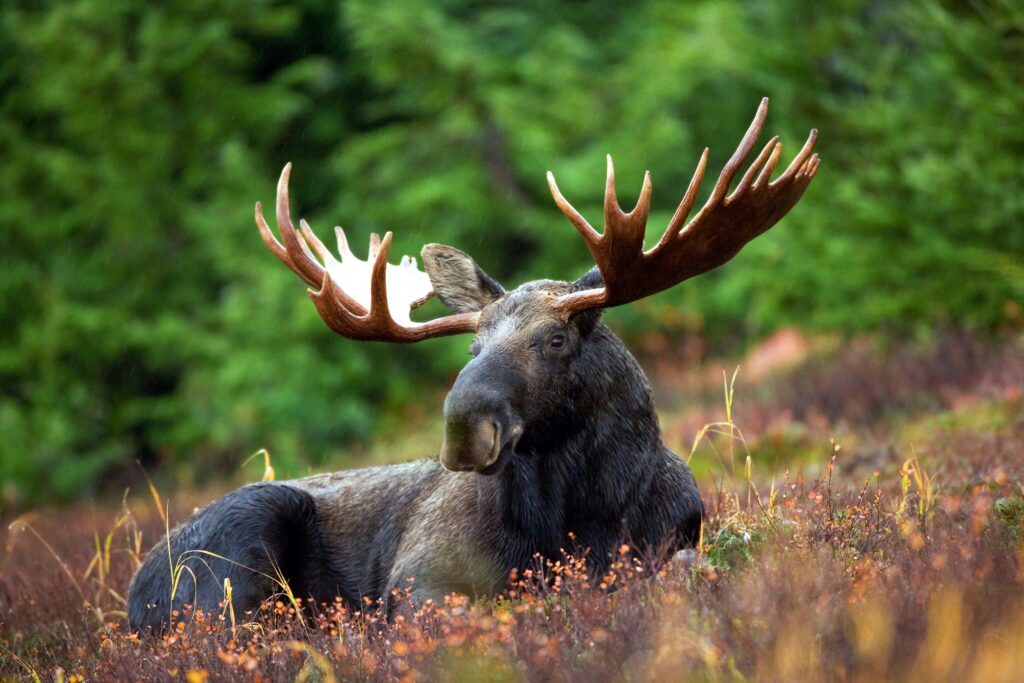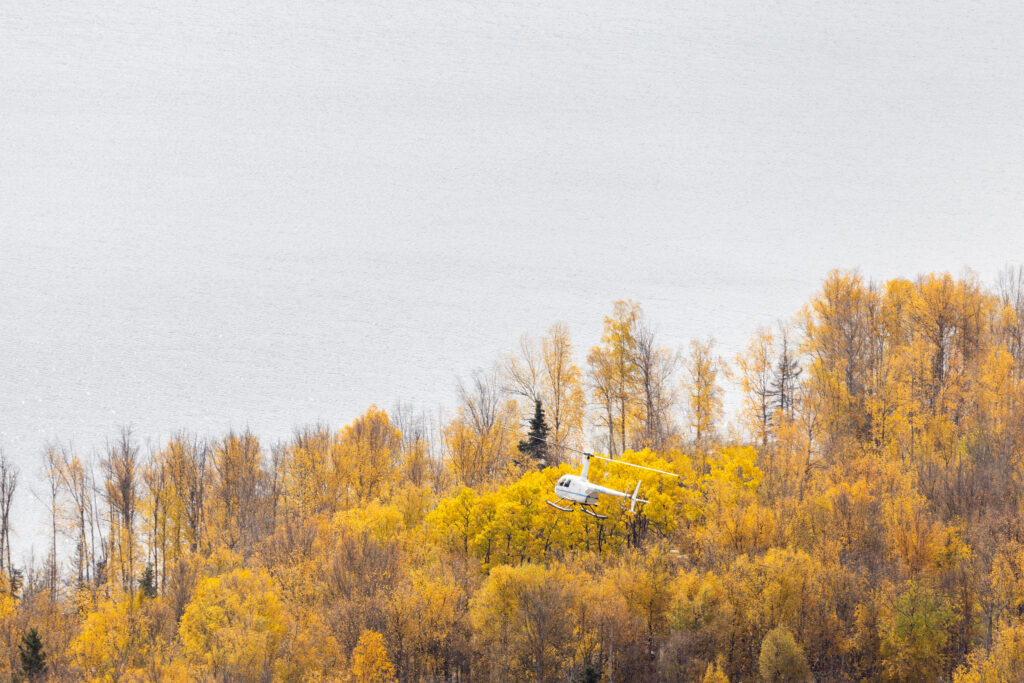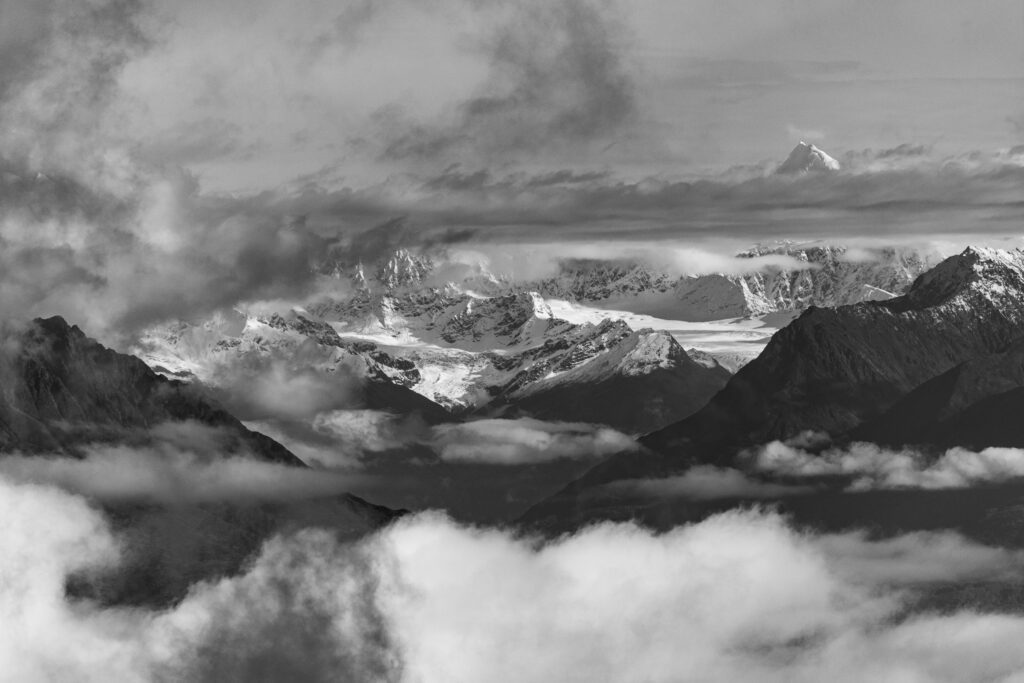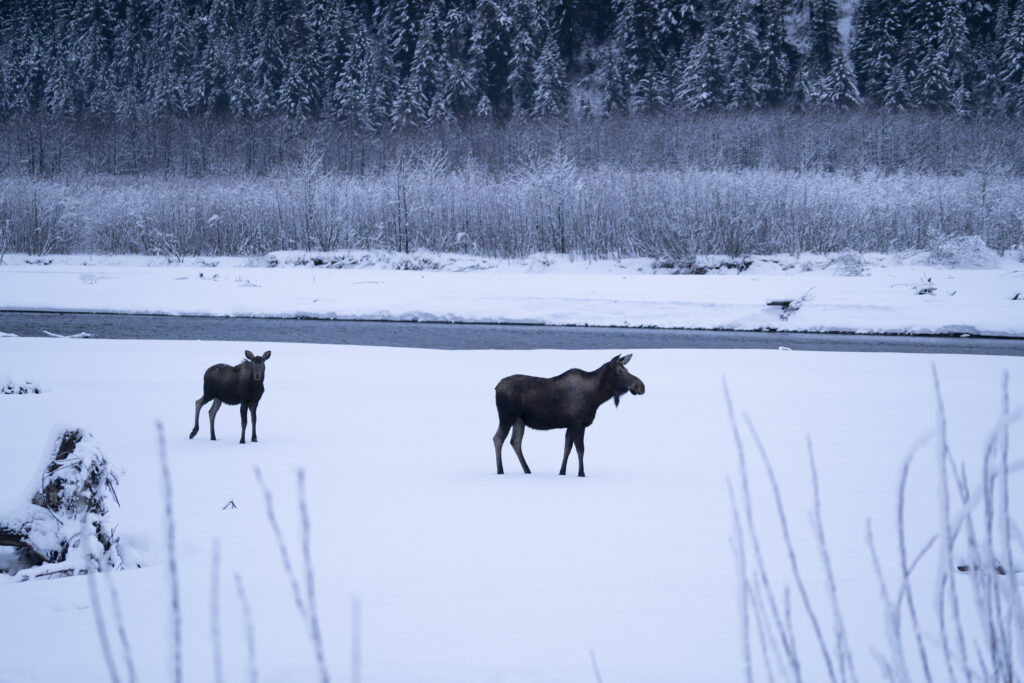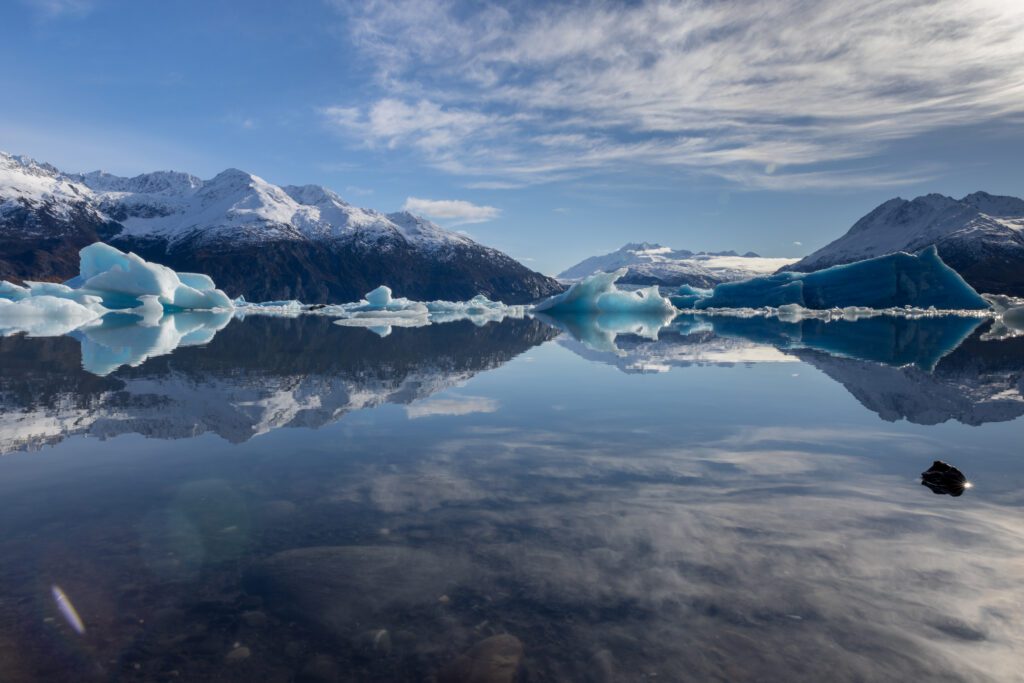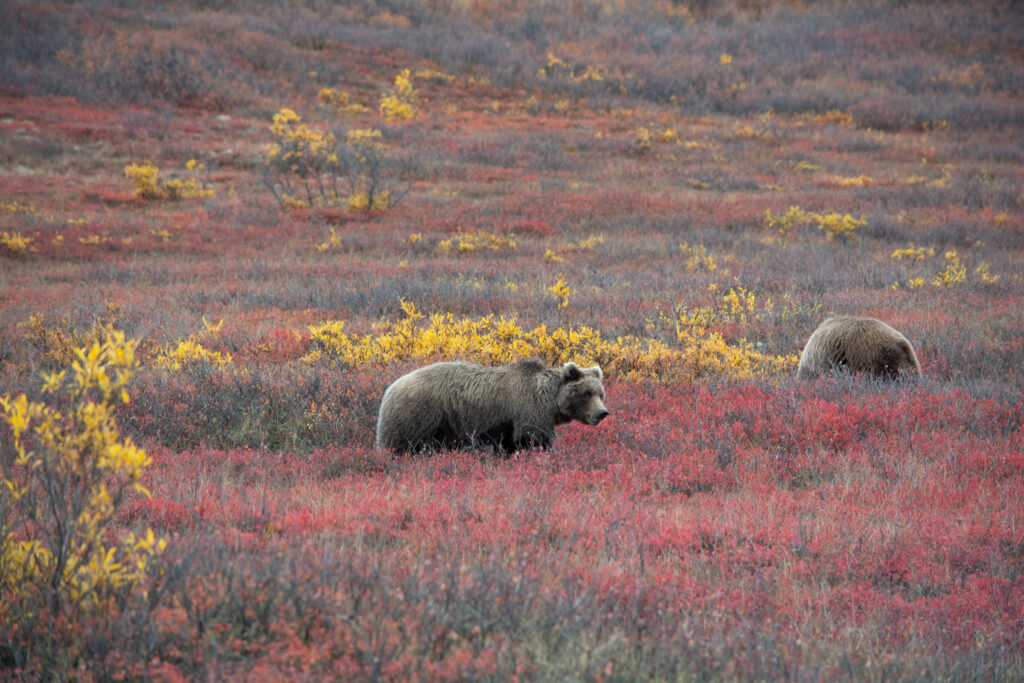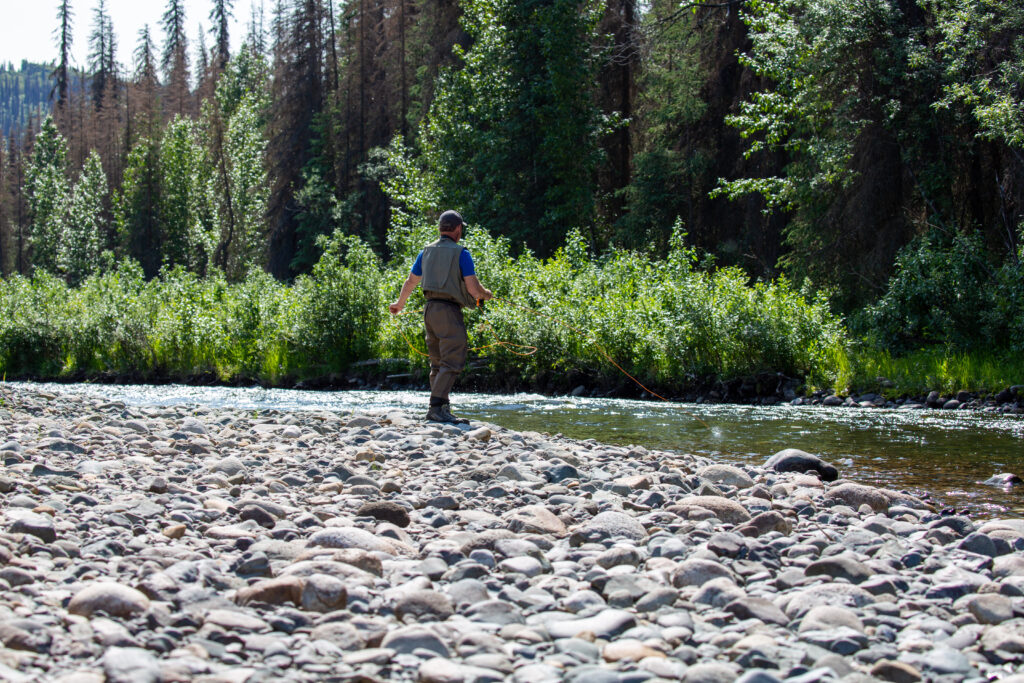 For photography recommendations, or if you have specific goals or animals you would like to see on your tour, speak to Robert on our team. He is both an experienced pilot and an accomplished photographer. Feel free to drop us a message on the contact page to find out more.
YOUR KNIK GLACIER HELICOPTER Flight
Tours depart from one of our partner locations in the Mat-Su Valley. We can pick you up off the dock at Mat-Su Resort or the back lawn at Lake Lucille Inn. For all information on finding us, or email and phone details, visit our contact page.
The Knik Glacier Helicopter Tour loops you through Chugach State Park in Heli Alaska's R44 helicopter. Our local pilots have extensive knowledge of the area, flora, and fauna and will guide you throughout your trip. What's more, don't worry about the weather. Some of the best views of the season can often be on cloudy days. Albeit, there is nothing wrong with a bit of sunshine! However, seeing the mountain peaks through a cloud layer or witnessing fog deep in the valley is magnificent.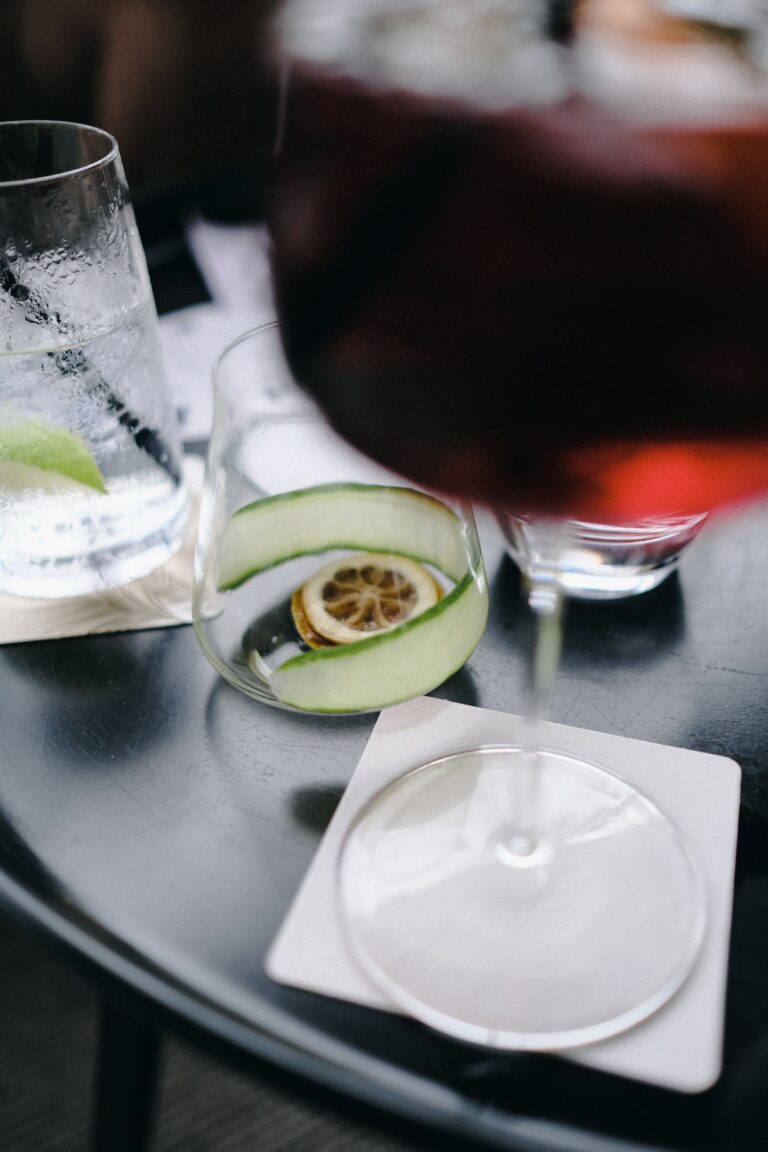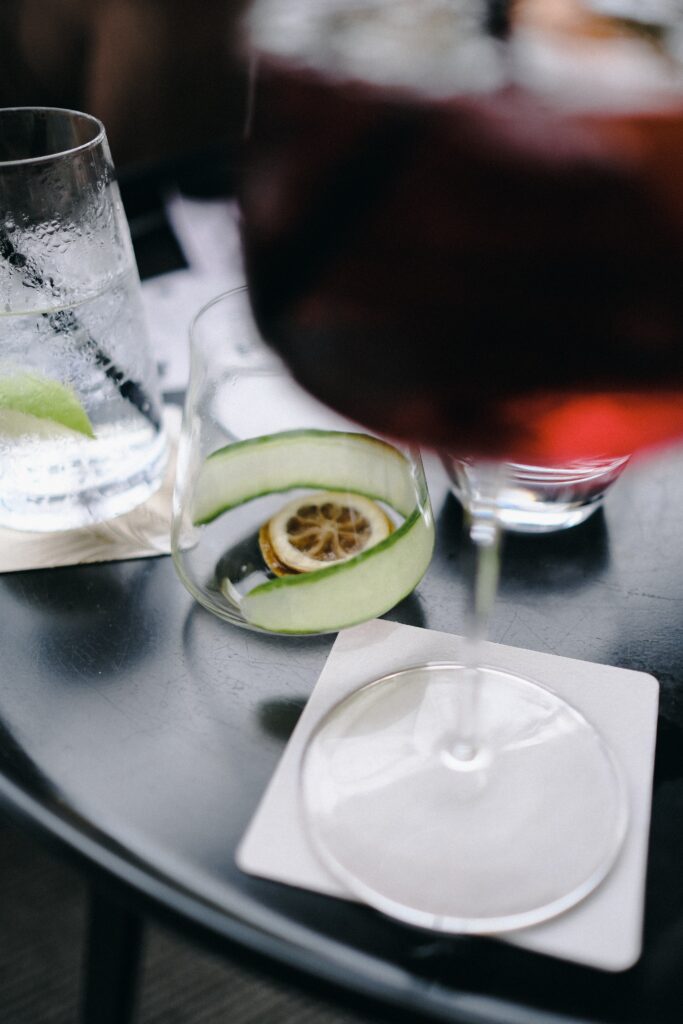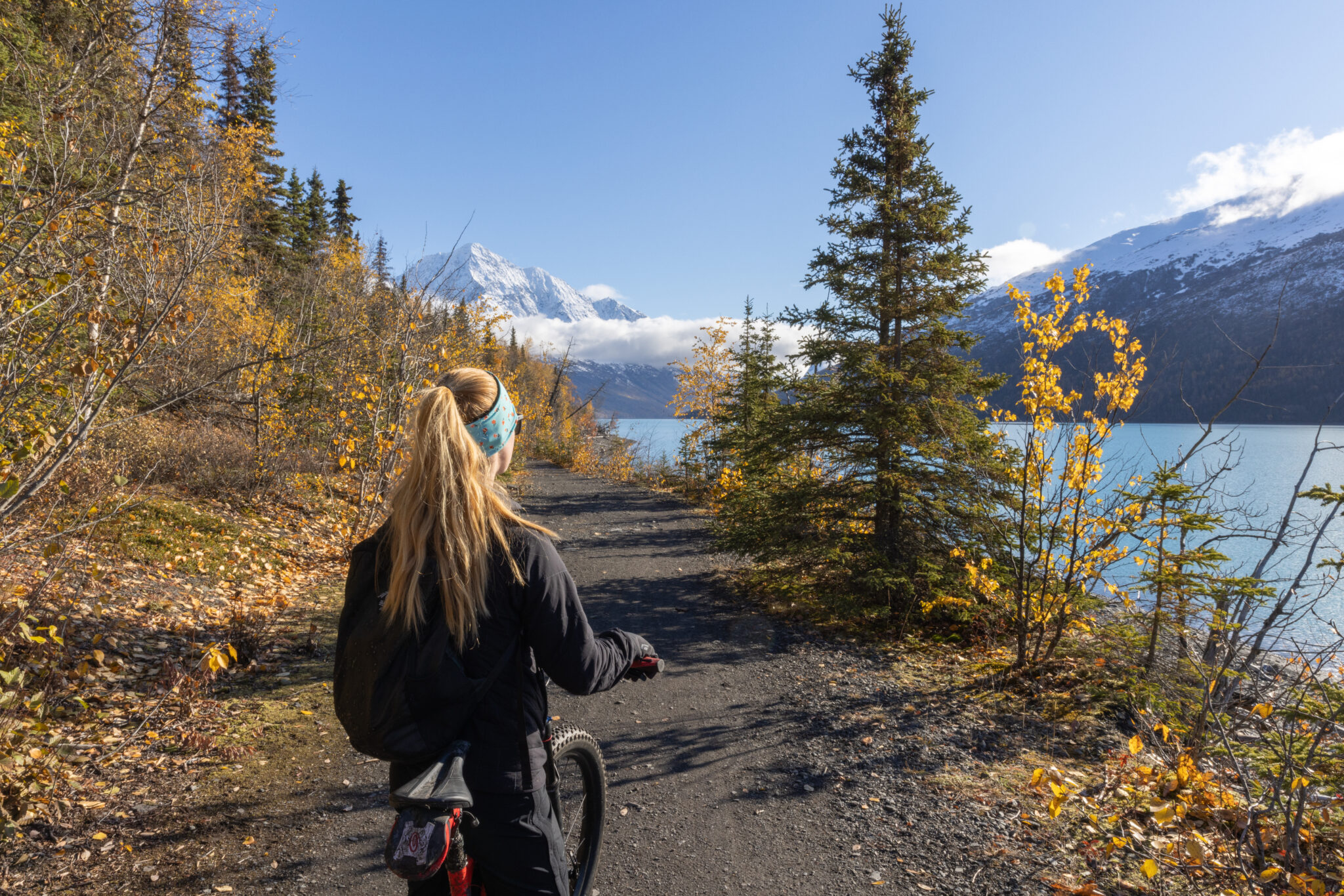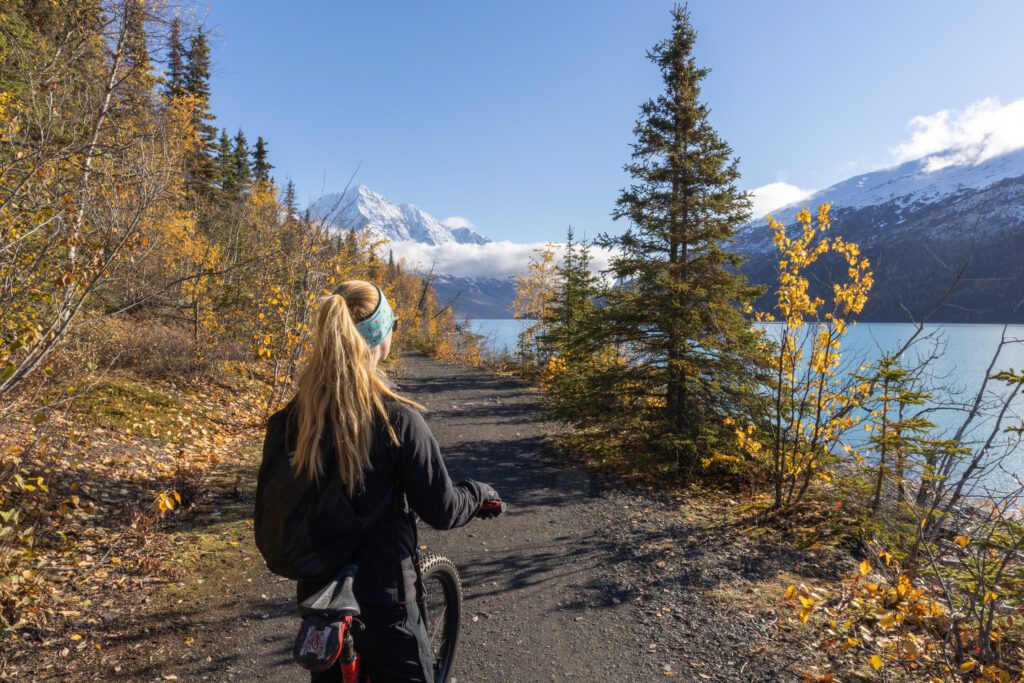 RECREATION IN CHUGACH STATE PARK
Although Alaska has wilderness areas that are larger and wilder than Chugach State Park, none on earth is so close to a major city or wildlife-rich habitat. With fantastic access and activities for a full range of skill levels, Chugach State Park sports 16 trailheads acting as entrances to 280 miles of trails. Activities available are incredibly varied, ranging from hiking, biking, horseback riding, helicopter tours, hunting, fishing, camping, gold-panning, ATV riding, snowmobiling, glacier viewing, photography, animal viewing, and much, much more.
The area is very popular with both nature and landscape photographers seeking to capture the diverse wildlife and rugged topography of the Chugach Mountains and glaciers. The park is home to more than 45 species of mammals, including nearly all found in the State of Alaska. It is estimated there are more than 1,000 moose, 80 black bears, 40 brown bears, 2,000 Dall sheep, one wolf pack, and populations of lynx, beavers, river otters, foxes, and mountain goats inside the 495,000 acres.
BOOKING YOUR KNIK GLACIER HELICOPTER TOUR
Does the Knik Glacier Helicopter Tour sound like the right one for you? If so, it's easy to book online or over the phone. Our automated booking system lets you pick your date and number of passengers with your phone or desktop computer. However, if you have any issues or questions, please do not hesitate to contact us.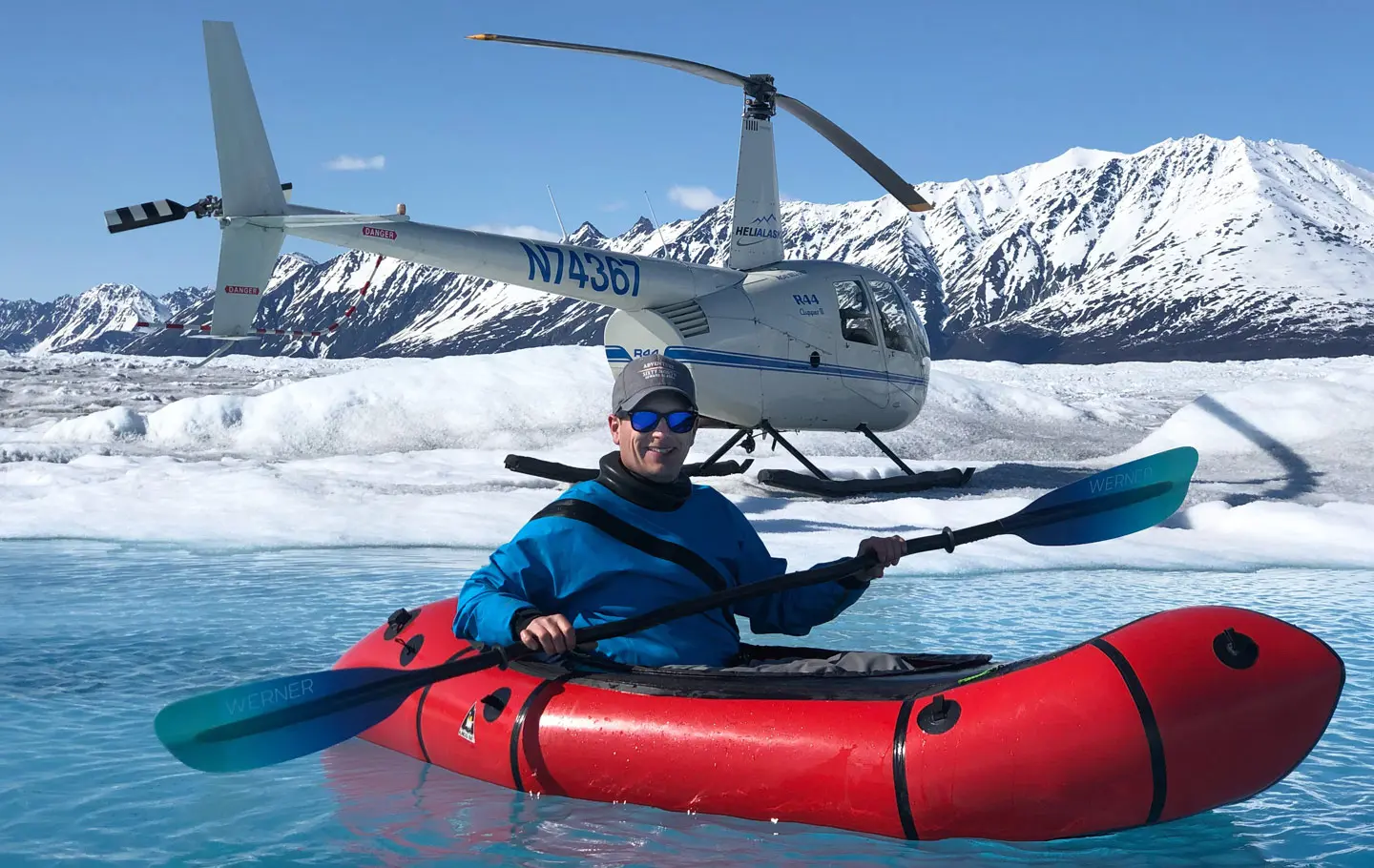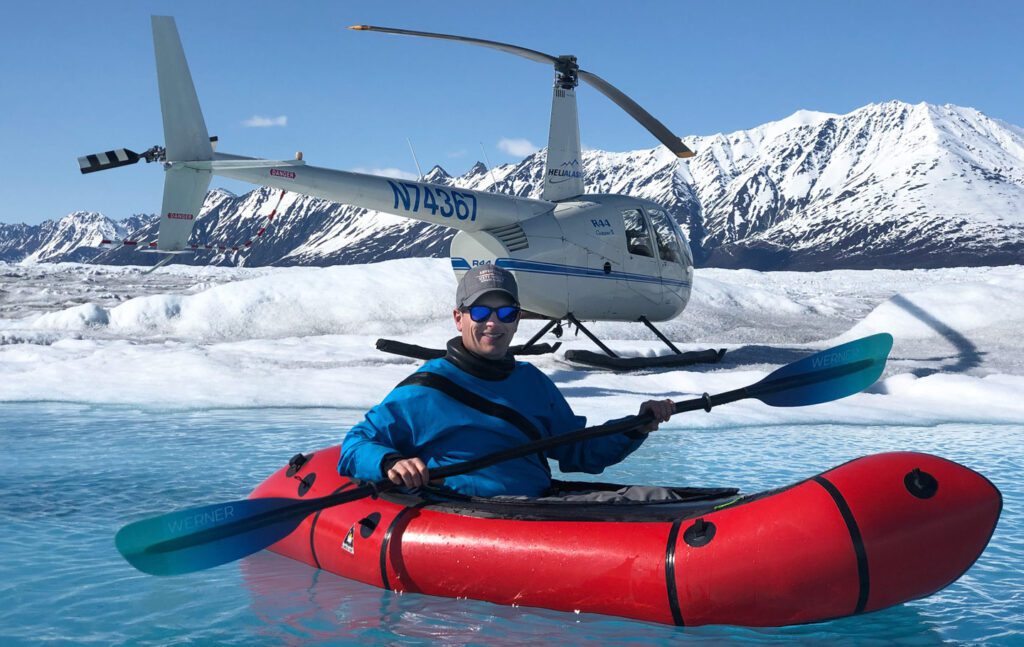 If you are nervous about flying for any reason, we will be happy to walk you through the process or make arrangements to improve your experience. Again, please feel free to get in contact using the contact page. Our pilots love flying and think you will, too, though we understand everybody's needs are different. One of us will be happy to assist you wherever possible.
Do you feel Knik Glacier Helicopter Tour is not quite what you want? If you'd like to discuss customizing your tour, give us a call, and we'd be happy to accommodate your needs.
Knik Glacier Helicopter Tour AvaiLability
See availability and choose a time for your tour. Or read on to find out more about the Knik Glacier Helicopter Tour with Heli Alaska, Inc.